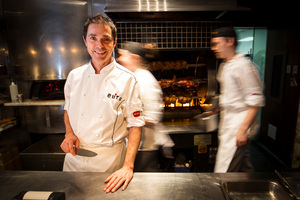 Reigning MasterChef winner Aaron Brunet is wowing diners with a $100-a-head meal at Auckland's swanky Euro Restaurant before he launches his own eatery.
The man celebrity chef and television cooking judge Simon Gault repeatedly referred to as a rock star during the popular TV show said he had invited Brunet to work in the kitchen at Euro to learn the ropes.
Gault said a five-course degustation menu - inspired by Brunet's European heritage and MasterChef dishes - was a hit with diners.
The first fortnight's set menu included buttered corn cob, Slovenian jota soup, grilled baby calamari, buffalo goulash and tiramisu roll.
"It's $100 per person for his menu and it's multiple courses but it's incredible how it is selling. It's a real dining journey in a night."
He said it offered people a unique chance to meet Brunet who was not only overseeing the preparation of their food but delivering it to tables. "The cool thing for people when they get here is the meeting-Aaron-experience and him telling them what they're eating and feeling the passion for the food and seeing him in the kitchen strutting his stuff."
Brunet was coy about the details of his planned eatery. "I'm looking at some really cool things but don't want to reveal them right now."
Instead, he said he was focused on his new cookbook, due to be released this year.
Gault said he was keen supporter of MasterChef winners and this was a practical way he could help a talented home cook fast-track into the professional world. "So it's a win-win for everybody because he gets in and really actually works a kitchen which is really what it's all about."
Brunet finishes his stint at Euro on September 5.