Address:
177 Sandringham Rd, Kingsland
Phone:
(09) 815 6992
Rating out of 10:
Food: 9, Service: 8, Value: 7, Ambience: 8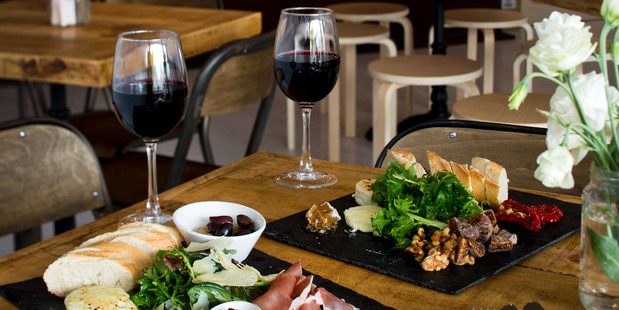 My old French-English dictionary from school has had a bit of a workout this year, what with visits to Le Garde-Manger and now Petit Bocal. Bocal is French for jar, and there they were - jam jars used as light fittings. What a clever idea.
And rather than trying to hide the black cabling, it becomes a statement, setting off the white walls and black-and-white prints of Paris, and holding bunches of white chrysanthemums on each table. It's very cute.
Petit Bocal opened as a cafe serving breakfasts and lunches, and four months ago extended their hours and menu to include dinner. Having brunched there satisfactorily, it seemed like a good idea to dine as well.
We began with the pigs and pickles platter, an alliterative if unappealing name for an excellent pork terrine, a dish of shredded duck meat and a generous helping of bread, small pickled onions and cornichons. We fought over the terrine, not violently but, it has to be said, knuckles were rapped.
Bill was less enraptured with the duck, but I loved it.
Although Petit Bocal's website implies evening meals consist of sharing platters only, they do have a specials board offering standard mains.
Thus it was that Bill found himself enjoying the best scotch fillet he had eaten in a long time. It arrived rare, as ordered, and meltingly tender. The frites were crisp and fluffy in all the right places, and with a small side salad it was perfect. The accompanying La Rose Bourbon Bordeaux was our waiter's suggestion, and a good one.
To my mind a caesar salad is a test of a chef's skill, and Julien Albe was not found wanting. The small, crisp cos leaves were left whole, with pancetta and croutons divided between them, and the poached egg in pride of place in the centre of the plate. It took a minute to find the anchovies, because I was looking for the wrong sort. These were long, silvery and less salty than the usual offering, and delicious.
The dessert menu beckoned and Bill's tarte citron was sweet and sharp and moreish - or so I gleaned from my one small spoonful (all that I was allowed).
In the case of Petit Bocal I would prefer not to bring it to public notice, to increase our chances of securing a table on our next visit. There most assuredly will be one.


Our meal: $152.50 for a shared platter, a salad, one main and one dessert, a beer and four glasses of wine, and one digestif.
Wine list: Not long, with 50:50 French and New Zealand options. Bill enjoyed La Rose Bourbon Bordeaux. My Seguinot Chablis was light and delicious.
Verdict: Good French cafe food is worth seeking out. The food at Petit Bocal is very good indeed.