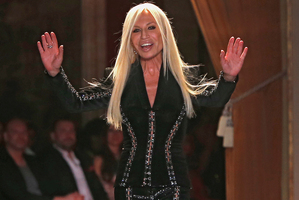 Donatella Versace says the internet has forced fashion to evolve.
The designer has been working in the industry since the 70s and has seen many changes. One of the biggest is the immediacy of fashion shows, with Versace constantly astounded by how quickly images of her creations find their way online after being taken at her shows.
"I have evolved for sure, because that was a different moment - there was no internet, there was nothing. People would sit and take pictures of the show and the rest of the world didn't know what was going on. Can you imagine the difference?" she told Dazed Digital magazine.
"I mean, it amazes me that when I do a show tomorrow, everybody in the world will know what is in it."
Versace is renowned for its iconic safety pin dress, as seen on Elizabeth Hurley and Lady Gaga.
The designer discussed why the item has become so important to the label, revealing it was her and not her late designer brother Gianni who first implemented it.
"I was in a fitting for couture and they were very precise and Gianni asked me to go back to do a fitting. I said, 'Come on Gianni, don't make me go back.' So I took a safety pin to pin the dress - I said, 'Who's going to see?'
"And from then on I got obsessed."
The designer talked about the early days of Versace, when supermodels shocked by walking the runway in the label's iconic bright, sexy dresses. It was a totally different time in fashion and she's glad she experienced it.
"I'm glad I was there but I don't miss it. I loved every minute of those times. Things happen that you never forget and that can never happen again, ever. It was a time of excess and loudness in many aspects, but at the same time there was another side that was very discreet. Of course we won, the loud one!" she said.
"But you know why that part won? Because there was a lot of personalities, like top models - you know, these great girls with great personalities, attitude."
- COVER MEDIA