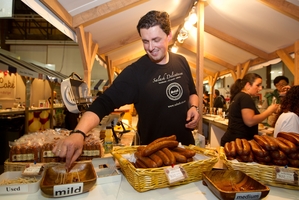 One look at the crowd at the Food Show yesterday and it's obvious that cooking, at least as a hobby, is attracting more and more men.
The crowds are now split about 50/50 between the genders - a vast difference from when the expo started up more than a decade ago when it was mostly women who attended.
And the show's chief executive, Dona White, said the event was bigger than ever with about 300 vendors showing off their products and a crowd of up to 40,000 expected to flow through the gates at the ASB Showgrounds.
"People are asking more and more questions like, 'Where is this from? How is it made? What are the ingredients?'. We're seeing people becoming more interested in authentic and artisan products rather than things that are processed," she said.
And she put the increasingly male crowd down to the popularity of food television shows such as Masterchef, which have male judges or hosts. When the Food Show began 13 years ago with just 80 vendors, the crowd was mostly made up of women.
"Men see cooking as a hobby these days - it's something you can make your own and put your stamp on ... these days it's getting up there with sport or fishing and those sorts of hobbies," Ms White said.
One of the other differences show-goers will notice is the emergence of vendors grouping together. This year, businesses from Nelson have banded together around a bright yellow carpet and companies specialising in Korean products have huddled together under a big banner and a soy sauce display.
There's also a vintage marketplace with wooden stalls where Auckland vendors have banded together.
Auckland Tourism, Events and Economic Development approached different businesses months before the show started coming together to get them under the same banner.
There's everything from wine to mussels to bread on offer at the Auckland marketplace, but it's hard to miss the Salash Delicatessen stand where salami samples are being snapped up by a constant stream of people.
Owner Pedja Mirkov embodies all three of this year's biggest trends - he's a man interested in cooking with natural ingredients and is grouped among other Auckland retailers.
By yesterday afternoon, he'd already gone through more than 3500 toothpicks for samples. Yesterday was the first day it was officially open as Thursday was an exclusive preview.
"Lots of samples, lots of sales, lots of talking - it's been good," he said.
Mr Mirkov expected to go through many, many more boxes of toothpicks as today and tomorrow are tipped to be the show's most popular days.
Baking is also big this year. There are boutique beers, micro-breweries and wine offerings that play up the importance of the winemaker, Ms White said.
"Cheese continues to be popular and New Zealanders are adventurous and willing to experiment with all varieties ... We could never get enough cheese in the show to satisfy the visitor demand.
"Last but not least, gizmos and gadgets that make food prep easy are hot and retro food processors, toasters, you name it, they fly out the door," Ms White said.
When: Today 10am-6pm and tomorrow 10am-5pm
Where: ASB Showgrounds, Epsom
Entry: $28 for adults, $15 for under 12s and free for under 5s