Each week Wendyl Nissen takes a packaged food item and decodes what the label tells you about its contents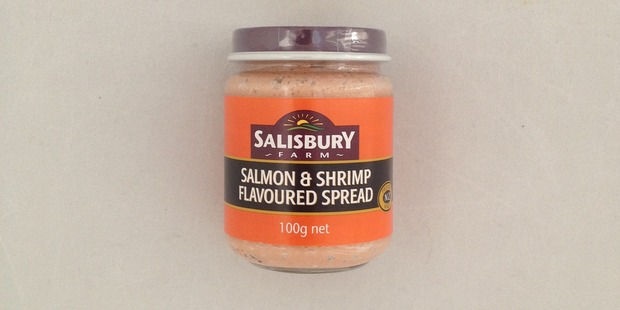 This is a very old-fashioned type of product which harks back to the very British- inspired lifestyle when you would have fish paste sandwiches in your lunch box.
Gentlemen's Relish was a very popular product which used anchovies to add to the flavour. It would be served in sandwiches with watercress or cucumber.
I was one of those children who took fish paste sandwiches to school and to this day I love the stuff and will often buy a little jar to enjoy on crackers.
And sometimes I make it myself (see recipe below).
There must be other people in New Zealand with fish paste cravings because there are quite a few little jars on our supermarket shelves.
This jar caught my eye because it said "flavoured spread", which got me worried. If I'm going to have salmon and shrimp in my sandwiches I want it to be real salmon and shrimp.
Ingredients (in order of greatest quantity first):
• Fish (72 per cent) - Good to see that the main ingredient in here is fish, although unclear what fish variety. However, it was disappointing not to see a specific mention of salmon or shrimp, which tells me that salmon and shrimp taste will be covered under "flavouring" further down.
• Water
• Vegetable fat - Not clear what vegetable oil is used in here
• Food starch (1412) - This is distarch phosphate which will be in here to thicken the paste.
• Milk protein - This is a protein taken from milk which is most likely in here for flavour.
• Salt - Not too high in salt, coming in at 67mg per 10g serve.
• Flavours (soy) - And here we have the flavours which make this product taste like salmon and shrimp. Because soy is mentioned I'm going to be positive and hope that the flavours are based on natural products like soy sauce. But, there is no mention of natural flavours here, which means artificial flavours are usually employed.
• Spices - In here to add to the flavouring.
• Antioxidant (316) - This will be in here to preserve the product and is sodium erythorbate (316) which is made from beetroot and sugarcane.
• Colour (172) - This is iron oxide (172) which I don't see used often but it is natural.
My recommendations - I can't find any reference to the use of actual salmon and shrimp in here, and because there is no mention of natural flavouring I'm not at all sure about this.
Fish paste is very easy to make yourself so why not grab a 210g tin of salmon, drain it then mash with a fork (remove any bones or skin and reserve liquid).
Mix in 1 tbsp butter, 1 tsp mustard, 100g grated cheese, salt and pepper and 1 tsp lemon juice. If it is a little dry add a bit of the drained liquid to moisten. Store in clean jars in the fridge. If you feel like it you could add a few shrimps into this mix too.
Making it yourself means you are avoiding any artificial flavours and getting the full benefit of real salmon and shrimp.
Highlights
• Natural colouring
• No mention of salmon or shrimp.
• 72% fish.