Decor themed on a past era works best in a palette limited to signature colours and ornamentation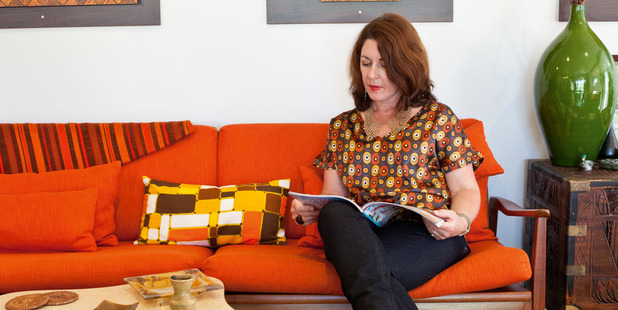 When Rachel MacPherson settled in Tauranga with husband Joe 10 years ago, she went back to her roots in more ways than one.
Not only has she returned to the house she lived in during her teens, but she also has decorated it in 1970s style - with colours straight from her childhood.
MacPherson's move from Auckland back to her home town coincided with her parents' decision to build themselves a new house at the front of their property, so they asked the couple if they wanted to buy their existing 1950s three-bedroom home. "It was a nice way to live as an extended family," says MacPherson.
The home now pays homage to the classic hues of the 1970s, colours that Rachel remembers growing up with.
"I've been through the shabby chic, French whitewash stage, but I've decided on orange, green and brown, which, funnily enough, are colours I loved as a child," she says.
So, when the MacPhersons replaced the kitchen, there was no chance the new one would be white-on-white. Instead, there's wood veneer, an olive-coloured Formica benchtop and an orange splashback. The original stainless steel bench remains.
In the kitchen and dining area, brown cork tiles are topped with rugs that have been fashioned from carpet from a TAB with swirls of green, brown and orange, while there is an orange shag-pile rug in the living room.
The theme continues with retro-inspired fabric used for the cushions on the orange dining room couch, while green Carlton Ware, a fondue set, orange crockery, Crown Lynn ceramics, crocheted blankets, a macrame wall hanging and a beaded curtain all reinforce the 1970s feel.
"I'm very clear about what I like and I'm not hooked up on the latest and greatest fashion must-haves," says MacPherson. "I'd rather create a home filled with treasures from a bygone age. I'm very good at spotting things I think have potential. My girlfriends raise their eyebrows, but I'm passionate about reviving things with good bones."
She's skilled at hunting out objects at flea markets and op-shops - something she learned from her beloved late mother. "My mum was an avid flea market and Salvation Army shopper, which wasn't really so fashionable 30 years ago."
MacPherson's flair for nabbing bargains, coupled with her love of breathing life back into timeless classics, has led her to launch a business specialising in quality retro furniture and accessories - sold from the downstairs level of her dad's house.
She says the business is fun and will help to pay for the second stage of renovations.


Style tips
Seventies flashback: If your home would suit a 1970s look, the colours to employ are orange, brown and green. For the decor, think wood, cane, ceramics and Temuka pottery.
Going retro: If you want to evoke another era, such as the 1950s or 1960s, go to flea markets and secondhand stores to find pre-loved pieces that will help set the scene.
Material gain: Vintage curtains can be recycled by turning the fabric into cushion covers or an apron. You can even frame interesting lengths
of fabric.


Leanne Moore is the editor of Your Home & Garden. For more pictures of this home see the latest issue of Your Home & Garden, on sale now.