Address:
23 Ponsonby Rd, Ponsonby
Phone:
(09) 360 6262
Rating out of 10:
Food: 9, Service: 9, Value: 9, Ambience: 7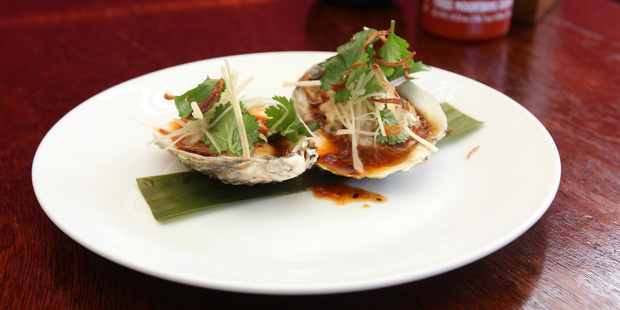 MooChowChow is the third Asian fusion restaurant in Ponsonby we've been to over the past couple of months, and, said Dia, it's the best. Her verdict was established though a tingle on the tongue, as our Stewart Island oyster appetisers slid off their shells and down our throats. Never have oysters tasted as good as this.
As they say on the website, chef Che Barrington captures the sweet, sour and salty taste of Bangkok. And he does it with a flourish. Each oyster was topped with a squeeze of lime, a whisper of sweet chilli sauce and sprinkled with thin shavings of fried spring onion and a hint of coriander: just enough piquant flavours to achieve a fresh, fabulous taste without losing the oyster. It was, we decided, the perfect start to a near-perfect meal.
The wine list and the waiter who knew her way around it were also outstanding. She immediately brought me a healthy slug of the Rene Mure gewurztraminer to try, but she needn't have bothered. For once, someone knew what I was talking about when I asked for fruity and sweetish with no acid kick. The others were well pleased with their Rockburn chardonnay, too.
Our waiter also suggested a couple of her favourites from the reasonably small menu.
Almost all dishes are large enough to give four diners a decent helping. Our second starter was marinated prawns: large, peeled prawns marinated in a sweet, sour, salty concoction. Again, the flavours were zingy, fresh and exciting - for me more so than most authentic Thai restaurants.
As with most of these shared plate restaurants, the food arrived in no particular order.
Next for us was the large pork hock, which was indeed large. It had been cut into chunks and rolled with the soft skin outside, then caramelised to sticky bliss. Admittedly, it was tricky to eat (and even harder to cut with chopsticks), but once you pop a piece in and chew until it disappears, the reward is delicious - and lingering. Again, it was a brilliant rendition of a pork dish that, with pork belly, has become a standard over the past few years. "Look no further," sighed Brian, "this is the best."
For Dia, our fish-eating vegetarian, the yellow fish curry with prawns - a dish large enough for all four of us - was the hit of the evening. In this chef's hands, reliable but unexciting tarakihi became amazing. Along with giant prawns and vegetables, it was bathed in a thick yellow curry sauce. Although we'd been warned it was spicy, it turned out to be just right. And again it was outstanding for both its layers of fresh flavour and the beautifully just-cooked ingredients.
The green papaya salad was fresh, clean and zingy - a perfect accompaniment to the pork and a highly fragrant fish. Even the rice was good. Clumping together without being gluggy, it helped mop up the last of the sauce.
This brings us to the desserts, which again were strikingly different. Nowhere else have I encountered a coconut milk creme brulee and this was fabulous. So, too, was the chocolate mousse, while the coconut banana disappeared so fast I managed only a morsel.
By then we had our sticky wines to linger over and we were dying to lean back and relax on our comfortable cushioned stools, but being stools this was impossible so we stumbled off into the night, carefully negotiating MooChowChow's ridiculously narrow, even dangerous, side door and terrace and discussing the merits of what they call "social dining" or table sharing. We had shared a table with another foursome. But after sliding ourselves somewhat clumsily on to our stools and settling down, the entire group had steadfastly ignored us. Not even a nod.
Sharing, maybe - but social? Not a chance.
This must be why MooChowChow manages to serve two sittings every night except Monday. No matter how much you love the food, the seats stop you from lingering. But they do advertise this as Bangkok hawker-style dining, after all.
As a rundown of all three of Ponsonby's latest fusion restaurants, I'd give Blue Breeze Inn, with a menu also by Che Barrington, the prize for thrill and crazy decor, Mekong Baby the prize for comfort, personal service and cuisine that leans slightly more towards its French roots despite its Asian zing, and MooChowChow the overall prize for fabulous, exciting and unpredictable Thai fusion flavours.


Our meal: $276 for two small plates, a papaya salad, two large plates and three desserts, plus a bottle and four glasses of wine.
Wine list: Excellent, with staff who know it backwards. We also liked the look of their "mocktails".
Verdict: This is Che Barrington at his best, producing exciting Thai fusion food at reasonable prices, served in a casual atmosphere by a team of waiters who know the menu and wine list thoroughly.