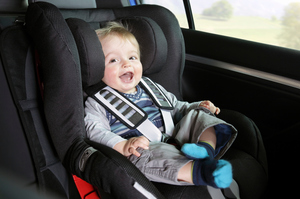 Parents are putting their young kids' lives at risk because of unsafe or incorrectly installed car seats, police say.
During a two-week campaign in Christchurch this month, police, city council road safety campaigners and Plunket visited six city pre-schools and checked 275 child car restraints - but found nearly half were not up to standard or were installed incorrectly.
The most shocking case was a van containing seven children under the age of five where none of them were properly restrained.
"Having a child restraint in the car is great - but if it isn't correctly fitted and used, children are still at risk, said senior constable Grant Neal of Canterbury road policing.
"Correct use can literally make the difference between life and death.''
The most common faults identified were tether straps not attached to anchor bolts, seatbelts not correctly routed through the car seat and children who had outgrown their current car seat
Of the 135 restraints identified as having issues, 105 were able to be corrected at the roadside by either police or a Plunket car seat technician.
The remaining 30 could not be fixed on site, with the drivers being issued with a ticket, but offered compliance - where the driver is allowed a period of time to fix the problem rather than pay a fine or be prosecuted.
Two drivers were issued tickets without compliance for not having their child in a car seat.
One driver had the booster seat in the boot of the car and said they forgot to put it in the car for the child.
In the other situation, the car seat was in another vehicle and Mr Neal says the driver indicated they couldn't be bothered changing it over just to take the child to pre-school.
But the most shocking case was the van containing seven children under five years of age who weren't properly restrained, while six of the seven car seats had expired.
"A child restraint has a life of either 7 or 10 years, indicated by an expiry date. The oldest car seat in this van was 28 years old,'' Mr Neal said.
- APNZ