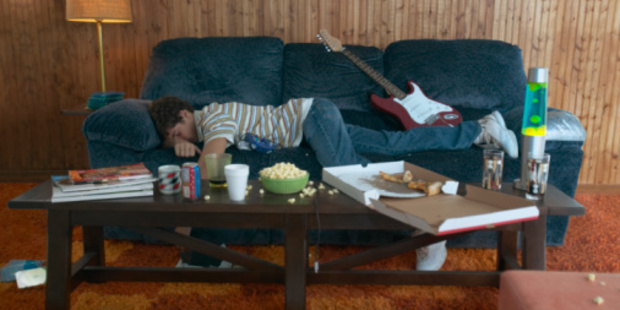 The saying goes that "Guests, like fish, begin to smell after three days".
It's one of the many issues explored in Lionel Shriver's latest novel, Big Brother, in which the narrator's brother well and truly outstays his welcome. For "two whole months" Edison kept "unsociable hours", failed to use coasters under cups on the rosewood coffee table and routinely drenched the bathmat.
His sister suspected he smoked inside her smoke-free home. He ruined a mattress, damaged kitchen implements, broke a wineglass and melted a pot handle.
(Interestingly, opinion is divided as to whether a good houseguest should cook a meal. Some people see it as contributing positively to the household while others view it as messing up a pristine kitchen.)
As with most things in life, context is everything - and there's no one-size-fits-all rule for how long a houseguest should stay. Factors that can impact on the likely acceptable duration of a visit include: how well the guest knows the host, how disruptive the guest is to the host's routine, how well behaved the guest is, how tolerant the host is, what other pressures the host might be experiencing and how spacious the residence is.
Two or three days is often cited as the optimum time for guests to stay. The Rule for Guests: How Many? How Long?, says: "Three days is a perfect long weekend to catch up with friends. Day one, we're happy to see them; day two, a full day of adventure; day three, we're ready to settle back into our routine." One reader commented: "Close, low-maintenance friends, stay as long as you want. Family members, please don't stay at all." Ouch.
House Guest Etiquette at the Huffington Post, which tells of experienced hosts who expect houseguests to vacate the premises for most of the day, recommends a two-night maximum stay.
According to You're Staying How Long? Managing Difficult Houseguests, "Most people don't mind if a guest pokes in the fridge for a snack, but when she takes up residence on the couch in the matching velour tracksuit that she pilfered without permission from your closet, with the last of your Wheat Thins and that bottle of sauvignon blanc you were saving for a special occasion, all the while hogging the remote control, things can get a bit tense."
Some rules of thumb for being considerate guests are to: make your own plans and not expect the host to act as a tour guide, provide groceries or wine, tidy up after yourselves, volunteer to do the dishes and offer to cook a meal. Oh, and don't monopolise the bathroom or living zones.
In most circumstances, having an open-ended visit is asking for trouble. Both parties should agree up front on exactly how long the visit is going to be. But, ultimately, people having difficulty prising guests from their home have little choice but to be frank about it. So, remember, when your host says: "Well, it's been lovely having you to stay. We must do this again sometime", they really mean "Goodbye, and don't let the door hit you on your way out".
Have you had guests outstay their welcome? How did you handle it? Or have you been a guest who lingered longer than the hosts really wanted?