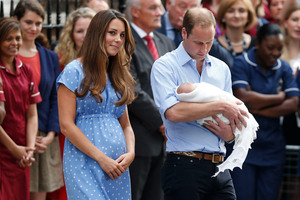 I really hope Kate Middleton doesn't suffer from post-natal depression. After about five minutes I thought better of my Facebook post suggesting Trayvon as a name for the new princeling because I just couldn't cope with another torrid online scrap.
I replaced it: "Cooking brussels sprouts for dinner - stir-fried with garlic and sesame oil."
Yet that got 50 comments and sparked a debate about whether you should score a cross in the bottom of the sprout or not. Never mind. I find it much easier to talk about brussels sprouts than I do about motherhood.
I felt decidedly uncomfortable watching Kate Middleton going home with her new baby. Oh, I'm pleased for her, but I can't help recalling that moment of my own life, leaving hospital with my first baby, and all I can remember is terror.
At home with my new baby, I just couldn't stop crying. I felt adrift. It probably didn't help that I was living in a part of Auckland - Manurewa - where I didn't know anybody nearby and my then-husband had to be overseas for work.
The pressure and the expectation that this was going to be a rapturously happy time - what the women's magazines revoltingly call "baby bliss" - made it even worse. Even though I'm fairly well educated, had been on anti-depressants before and had a top obstetrician looking after me, it still seemed to take quite some time for me or anyone else to realise I was suffering from post-natal depression (PND).
Fortunately, I had a sister who visited me daily with hot meals and breast pads, and sent me to a psychiatrist specialising in PND.
I was lucky. There were also brisk midwives and other condescending bossy types in the "helping professions" who seemed inclined to dismiss it as "just the baby blues". Partly, it was my fault. If you are a person who wants to give an impression of being capable and competent - I put on eyeliner to visit my therapist - it is very hard to even let anyone know that you are really not coping. Until one day you just can't cover it up any more.
Looking back, I realise what I found hardest about that time was not the drudgery of a new baby, doing two-hour feeds, putting cabbage leaves on my sore nipples or trying to keep the dalmatian from eating the baby. It was the loss of myself.
Before I had the baby, I'd been a successful journalist. I'd worn high heels, covered High Court trials, been in control of my life. Afterwards, I didn't know who I was. Worst of all, whatever being a mother involved, I felt I was not doing it nearly well enough.
I'm not sure that things will be that different for Kate Middleton, despite all her fame and resources. The pressure and expectations of how to be a good mother are relentless for every woman. "Mother shame" - the fear that you are not measuring up as a mother - is overwhelming.
Society views womanhood and motherhood as inextricably linked, with our value as women linked to our role as mothers. There are rigid expectations of what the good mother looks like. We are expected to be perfect - nurturing, thin, glamorous, organised, sexy, successful - without even looking like you are trying.
And everyone has an opinion on how you should be doing it. Hilary Mantel got into trouble for saying Kate Middleton had to be a "shop window mannequin" before she had a baby. Yet, I can't imagine motherhood will be any better for her.
How frightening to have the whole world expecting you to be uber-mother. Not to mention the shadow of Diana, who helpfully said: "A mother's arms are more comforting than anyone else's."
I prefer Margaret Atwood's view of motherhood: "What fabrications they are, mothers. Scarecrows, wax dolls for us to stick pins into, crude diagrams. We deny them an existence of their own, we make them up to suit ourselves - our own hungers, our own wishes, our own deficiencies."
Amid all this pressure, what keeps most mothers going are the friendships with other women, those who are brave enough to admit how difficult mothering is, "quietly, over cups of tea at a table sticky with spilled apple juice and littered with markers without tops".
I hope Kate has some of those kinds of friends. She will need them.