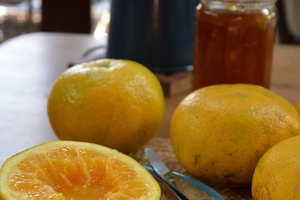 Grapefruit is one of winter's colourful citrus jewels. Packed with antioxidants just when we need them, the grapefruit is a popular fruit tree to have in the home garden. The fruit may be an acquired taste as it can be rather sour, but there are a few tricks to draw out its sweetness.
In the United States, where grapefruit are a breakfast staple, they are much sweeter because of the way they are grown. Most commercial grapefruit orchards are in the hot states, such as Florida, where they are grown with irrigation. Despite this, grapefruit are one of the most cold-tolerant citrus fruits and will withstand some frost.
When selecting the place to plant your tree, find the hottest part of your property, ideally with a masonry wall to release heat to help sweeten the fruit. To get the most sweetness and ripeness from the fruit, leave it on the tree for a long time - it can take up to 14 months to ripen properly.
The variety you choose is also important. My partner decided to plant a Wheeny grapefruit when he moved in, as he loved the flavour of this variety. The only problem was it took a heck of a long time to produce fruit - this variety tends to produce fruit biennially. Although it was on the north side of our property, there was not enough air flow for the tree and it had too much competition from a large cabbage tree which sucked up moisture. It was plagued with white fly and black sooty mould, so after years of battle it was eventually taken out.
Lessons learned: Citrus need full sun. They need ample moisture but reasonable drainage. They need a spot with good airflow but not windy, and they don't want to be too crowded. They also need feeding for best fruit production.
My parents' grapefruit, probably a "Golden Special", has always been productive and the fruit not too sour. The soil where they have it is also part vege garden, so plenty of homemade compost (the best kind) ends up around that tree. This grapefruit is a breakfast staple, sweetened with a little honey or a sprinkle of raw sugar.
Preparation is essential for happy grapefruit eating. A grapefruit knife is a must-have - it is bent and serrated both sides so the core and seeds can be cut from the halved fruit, and the inner perimeter of the fruit sawn around to make the juicy segments easy to spoon out.
Citrus care
Citrus are surface rooters so they don't do well with grass growing around them, particularly when they are young. It is much better to lightly skim the grass from the surface without disturbing the roots of the tree, removing the competition to beyond the "drip line" if you can. Apply rich compost or well-rotted manure around the outer perimeter of the tree. Manure is best applied in autumn.
Planting comfrey around the drip line of the tree is a great low-input way to keep your citrus healthy. Comfrey plants are deep rooting and "mine" the soil, bringing nutrients up into their leaves. Nutrient-rich mulch is provided for the tree as the old leaves break down, supplying potassium and other minerals.
Citrus also require good levels of magnesium to avoid leaf yellowing, so sprinkle dolomite lime around your tree. Mulch to retain moisture to ensure the soil does not dry out in warmer seasons, but keep mulch well away from the trunk to avoid collar rot.
Pest prevention
The most damaging pest to citrus trees is the lemon tree borer. The larvae of this native beetle bore tunnels through the limbs of trees. I found one in a dead branch on my orange tree recently. I thought the nasty little grub bore a striking resemblance to the Waterview tunnel-boring machine, with a flat, hard head equipped for chewing through tough material.
The trick with borer is to catch it before it does too much damage. Check your trees regularly and take note of any branches which are a little more yellow and sickly, or even showing some wilt. I mixed up a strong brew of neem and injected that into any holes I found on my other trees, and cut off any small damaged branches. You can also try skewering the grubs by poking a fine wire into the hole. Fill holes with wax or paint.
Prune citrus in the cooler months and coat the wounds with pruning paste. Prune to open up the tree and remove dead material. Borer beetles are active in spring and summer, and will lay eggs on any freshly cut branches. If you have room and a decent-sized citrus orchard, it is worth planting mahoe in your shelter belt as this tree hosts a borer parasite, the ichneumon wasp.