Young enthusiasts tell Dionne Christian they can't imagine being without their four-legged best friend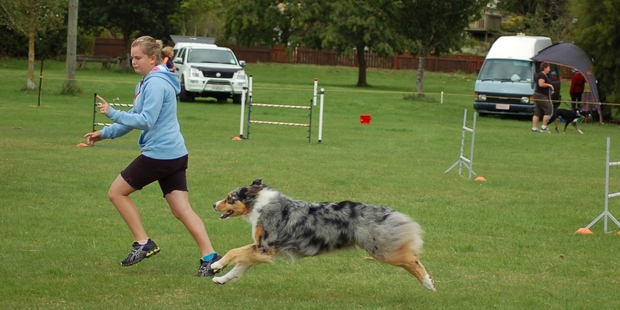 It's just as well most of the dogs in the New Zealand Kennel Club's Auckland Exhibition Centre benefit show have been carried or crated into the spacious Ardmore venue, because it's raining cats and dogs outside.
Good weather has given way to more typical winter rain and wind, so carefully preened pooches risk getting drenched and ruining their looks before they even enter the arena.
Dogs of all shapes and sizes have come from throughout New Zealand to take part in breed and obedience competitions before watchful judges; similar events happen almost every weekend somewhere in the country.
The dogs are accompanied by their canine crazy - and we mean that in a good way - owners and handlers. Pukekohe's Erika Watson, 18, is one of them. Erika won the junior dog handler title at the Porirua Kennel Club last October, winning a trip to compete against 38 other junior dog handlers from throughout the world at the famous Crufts Dog Show in Birmingham, England.
It has so far been the highlight of a hobby she started at 4 years old, and developed after joining the NZKC's Young Kennel Club. This club is open to people aged 5 to 20, with older members expected to take leadership roles.
Erika, a YKC committee member, says when she was little her family didn't have a dog but the neighbours did, so the Watsons found themselves with a St Bernard which was bigger than Erika.
Undeterred by the challenges of handling such a large dog, Erika joined a club and started participating in shows.
Now dogs and dog shows dominate her life. Her current favourites are cairn terriers and basset hounds.
"Dogs and dog shows are my life," she says.
"I judge, I show and I train them. I can't imagine what it would be like to live in a house without a dog."
Erika says it's a sentiment shared by many of the friends she's made through YKC.
Most become involved in YKC through local dog clubs which provide a place for like-minded canine enthusiasts to meet and learn how to "show off" their dog's skills in breed, obedience and agility at club nights or competitions.
YKC allows youngsters to compete against others their age - although there's nothing to stop them from taking on adults and their dogs - as well as attend an eagerly awaited annual camp with members from throughout the country.
Here, campgoers learn new skills, socialise with like-minded peers and, of course, spend time with much-loved pets.
Monique Gainsborough-Waring, 16, belongs to the North Shore Dog Training Club as well as YKC and says it's been a great way to spend more time with her beloved and very energetic border collie, Zandi.
"It's a good workout for you and your dog," says Monique as Zandi runs around the family room of her Murray's Bay home begging her mistress to join in a game of catch. "I've made so many great friends through YKC.
"It's so much fun meeting people your own age who do this."
Agility and Rally-O are Monique's favourite events.
In obedience, dogs and their handlers perform exercises which show the ability of the handler to control the dog's behaviour. Agility and Rally-O require equal amount of control but are also judged on speed and the ability to complete various tasks.
"The tasks are more fun for dogs and handlers, whether it's running around in ankle-deep mud in an agility course or blends of turn, changes of position, heeling around cones, and jumps."
Not surprisingly, Monique saying her time in YKC has introduced her to a range of canine-orientated career options - veterinary medicine is high on the list.
"You just learn so much."
Need to know
To find out more on the New Zealand Kennel Club, visit nzkc.org.nz or call (04) 237 4489; for Young Kennel Club, see ykc.org.nz
Be in to win
They may want to be man's - and woman's - best friends, but doggies do have their secrets, too. Writer and raconteur Max Cryer has dug out 1000 things that you may not know about our canine companions. Why do people say it's raining cats and dogs? Dogs never eat other dogs, so why is it a dog eat dog world? You'll be buying Every Dog Has Its Day, for all your dog-loving friends and become the party expert on the origins of our favourite pooches, and pooch stories, from this barking mad book.
Weekend Life has five copies of Every Dog Has Its Day to give away. To enter, go to nzherald.co.nz/weekend, enter your details and the keywords "Every Dog book" by midnight on July 31.