Dionne Christian discovers spine-tingling rhythm can be found in most unexpected places.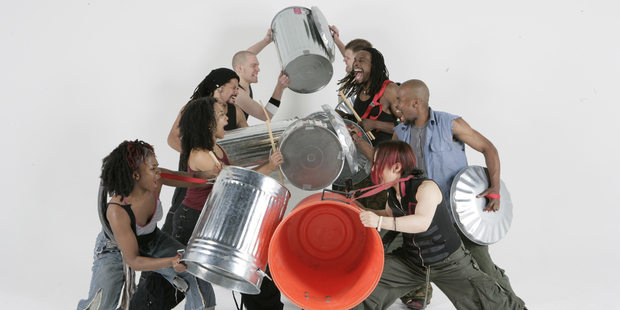 In the 22 years since it hit the road, Stomp has become a global phenomenon using the universal language of rhythm to get audiences from 48 countries across five continents on their collective feet. Proving you can dance to the beat of objects like matchboxes, brooms, garbage cans, Zippo lighters, plastic bags and supermarket trolleys, Stomp's eight performers arrive in Auckland this week to hammer out explosively feel-good rhythms.
We got to thinking about where you can go to hear, see and make your own beats in our city. Here's what we found:
Beat making
Okay, so it's not drumming in the strictest sense of the word, but it's a cool thing to learn. At the Otara Music Arts Centre, there is drum, guitar, piano, and singing lessons but the centre is also home to a beat-making studio. It is one of only two SoundHouse facilities in New Zealand, where students can learn how to make music using a computer rather than instruments.
The OMAC suite uses a range of different software packages and the results are impressive if the demonstration by tutor John Biddle is anything to go by. Classes, best suited for those 8 and older, run for five weeks and include tutoring in subjects like audio engineering, mixing and mastering, and multi-track recording. Join the OMAC today to celebrate its 25th birthday with local artists Sistema Aotearoa, King Kapisi and more (9.30am - 2pm, Otara Town Centre). For more details, go to aucklandcouncil.govt.nz and search Otara Music Arts Centre or call (09) 274-6400.
Classical meets contemporary
The Auckland Philharmonia Orchestra's percussion section has a busy time coming up. On Monday, September 30, it is the ensemble for the APO's annual dance project Takarangi. Choreographed by Atamira Dance's Moss Patterson this year, it is performed by students from Balmoral primary and intermediate schools, Waitakere College and Tangaroa College.
But in a more Stomp-like touch, the percussionists will perform two concerts using tuned tea cups and flower pots as instruments. Principal percussionist Eric Renick says the piece, written by David Lang and called The So-Called Laws of Nature, will be something no one in Auckland has seen before. Renick got bemused looks from fellow shoppers at Bunnings Warehouse as he sat in the garden section tuning flower-pots; at a $3 shop he spent an hour looking for the right kind of "musical tea cups". The APO Sanctuary Series, Monday, October 7, St Peter's Church, Takapuna; Wednesday, October 9 at St Michael's Church, Remuera.
Then the APO 4 Kids Christmas Concert will feature the Little Drummer Boy. There's a talent search on right now to find a boy or girl - a little drummer - who can perform with the shows in late November. See apo.co.nz for more.
Cultural beats
As the folks from Stomp say, rhythm is a universal language with drum beats pulsing through every culture. Auckland, the largest Polynesian city in the world, is home to the Drums of the Pacific troupe which has been going strong for 20 years.
Meanwhile Pacific Dance, in Newton, is a separate organisation where boys aged 5 to 13 can move to the beat of their forebears and learn Pacific drumming and dance at Wednesday afternoon classes (they have other dance classes for girls). Along with drumming, the school teaches Tahitian dance, Siva Samoa and Siva Afi (fire dance) for young people. To find out more, see pacificdance.co.nz or call (09) 376 0060.
Auckland's Caribbean community is one of the city's smallest ethnic groups, but in the last six or seven years members have established New Zealand's first Caribbean steel band orchestra. The Caribbeanz Southern Stars Steel Band has played at cultural festivals including the Cuba St Festival and the Hastings Blossom Festival. Up to 15 members from a range of ethnicities use steel pan drums, (invented in Trinidad and Tobago last century) to fuse African drumming traditions with those of indigenous Caribs and East Indians. They also use instruments such as the "grater" and shac-shac (a type of maraca). Anyone interested in learning how to play the steel pan is welcome to join practices at the Onehunga Working Men's Club on Tuesday evenings at 6.30pm. For more information, see caribbeanzss.co.nz or contact band captain and manager Camille on 021 045 7368.
Drum circles
A drum circle is an informal get-together of folk - young and old - who want to jam. Pete Wyatt, of Drum Circle New Zealand, says anyone can join in, no matter what their musical expertise, and you don't need to have a drum because someone is bound to lend you one. Drummers use mainly African (djembe) drums, and sometimes Celtic, Native American and Middle Eastern (doumbek) drums, to, as Peter says, celebrate community and life through rhythm and music.
The Moonfest Full Moon (Fire, Dance and Drum Circle) is held at Tahaki Reserve, Mt Eden (next one is on Wednesday, August 21, from around 7pm). For more information, see drumcircle.co.nz
Meanwhile, the Balmoral Beats Sunday Session Drum Circle has become a popular weekend event. It's on hiatus for winter, but organisers says Balmoral Beats will return when it's warmer with drummers meeting from 2pm to 4pm at Potters Park. Young families and people of all cultures have come along to make music and to dance. For details, email Craig at drumbeatznz@yahoo.co.nz
Pipe bands
New Zealand is thought to have the highest number of pipe bands in the world per capita, thanks, in part, to our immigrant Celtic connections.
The name usually conjures up visions of tartan-clad bagpipers, but drummers play a huge part by helping to keep the tempo set by the pipe major. The drum corps includes snare (side) drummers, bass drummers and tenor drummers. And it is far from a "dying artform" - several schools, such as St Kentigern College, keep tradition alive through programmes for students.
Adam Alexander, 25, was 10 when he started playing drums - after deciding the bagpipes weren't for him - for the City of Dunedin Pipe Band. He's now the drum sergeant for the Auckland and District Pipe Band, the director of drumming for the NZ National Youth Band (current Australasian champs for grade 3) and the Principal of Drumming for the NZ College of Piping and Drumming. Alexander says joining a pipe band is a great way to improve one's drumming skills, because there's so much theory and technical expertise involved. It is a great chance to meet people and travel.
Drumming has taken him to Australia, France and North America. Alexander says there is an upsurge of interest in the music from Asian nations with few Scottish or Celtic connections, so travel to Asia could be on the horizon. See nzpipebands.org.nz
Rhythm Interactive
Launched in 2003, this company specialises in interactive drum shows. Each audience member is given an African-style hand drum to perform along. Everyone is involved and, in keeping with the group's theme "actions speak louder than words", not a single word is spoken. The company brings up to 300 drums to each show, and uses clapping, stomping, drumming and humour in their genre-crossing shows. Look out this time next year for Drumania, Rhythm Interactive's theatre production which tours the country every two to three years. See rhythminteractive.co.nz for further information or email john@rhythminteractive.co.nz
Viva Eclectika
Organised by the New Zealand Asia-Association, Viva Eclectika is a three-hour musical and dance spectacular where performers from different cultures join forces to create intercultural dances.
This year, Japanese Taiko drumming will be fused with kapa haka; the Caribbeanz Southern Stars Steel band with Korean youth dance; dancers will blend classical Indian dance with classical ballet; there will be blends of flamenco, French cancan and Middle Eastern dance; Chinese lion/dragon dance with Scottish bagpipes and African fusion with Asian, Maori and Pacific Island influences. There are prizes for the best fusions.
Check it out at the Dorothy Winston Centre on Saturday, August 31, 7pm. Tickets: $15 a person or $25 at the door. See iticket.co.nz