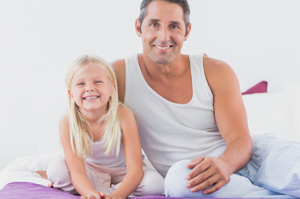 Financial generosity appears to be non gender-specific. We've all met men and women so tight they make our eyes water, just as we've all met and men and women who'll fling their credit card onto the dinner table as their (better-paid) friends do lightening-fast, bill-splitting sums in their frugal heads.
But here's an idea: what if women make men more generous?
If social research is to be believed, this isn't just an idea but the truth. And it's not a case of women demanding money from men, as internet commenters are wont to suggest. It's something else entirely, called the "Daughter Effect". A groundbreaking study last year, for instance, found that when male CEOs have their first child, they pay their employees less when it's a boy, but increase everyone's wages if it's a daughter.
The Daughter Effect as witnessed in the business world is a particularly interesting phenomenon.
Last week, The New York Times published a story called Why Men Need Women that explores this theory. According to writer Adam Grant, "The mere presence of female family members - even infants - can be enough to nudge men in the generous direction."
Grant points to a new study - Fatherhood and Managerial Style - that takes an in-depth look at the profound effect had by fatherhood on a man's values. Interesting, the study found that after having a child, a CEO will pay his employees less, in order to claim "his firm's resources for himself and his growing family, at the expense of his employees." However, this wasn't the case at all after having a daughter.
Other, similar research shows having a daughter makes men more selfless. One study found that U.S. legislators with daughters tend to vote more liberally; another showed that the birth of daughters made people in general more likely to vote for left-wing parties, which tend to focus more on redistributive and collectivist policies. Yet another found that the more sisters a man has, the more generous he is, and the more time he spends raising his own children.
The theory, especially in the case of sisters, is that women are the more altruistic sex, which rubs off on men. In so far as new fathers are concerned, it's thought that caring for their little girls awakens men's protective instincts, which results in their becoming (measurably) more 'other-regarding'.
So what's to be taken away from these sorts of discoveries?
"It's often said that behind every great man stands a great woman .... If we're wise, we'll follow her lead," writes Adams. Maybe. But it's also maybe problematic to paint all women as nice and giving. It can get a little too close for comfort to the stereotype of 'natural' female placidity and passivity. And benevolent sexism can be tricky to spot.
That said, women's capacity to think and operate empathically has as much, if not more, value as those qualities deemed important to business by men, like assertiveness. Protesting against the labels of 'nice' or 'fair' has its own particular brand of benevolent sexism, because it implies those traits are weak. And there's nothing 'weak' about success - studies have consistently shown that corporations reap more profit with women on their management teams.
Obviously that's because some women have fantastic business brains, just as some men have fantastic business brains too. But every "business brain" is informed by a set of personal values, and women - whether it's innate or a result of conditioning - bring a different, important set of their own. Be it via the Daughter Effect, or - preferably - actual participation in the world. Getting from the former to the latter is what's key.
Follow Rebecca Kamm on Twitter.