Herald Rating:
4/5
Address:
224 Universal Drive, Henderson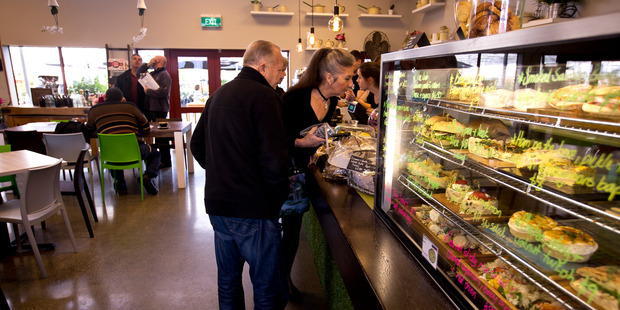 We came here because it's a cafe inside a garden centre. What's not to like?
Parking was very easy. Just pull up in the lot outside the building.
We walked in and immediately thought this place is packed. The cafe is a big, naturally lit room, with overflow tables among the swan plants and shrubberies outside. Nearly every seat was filled, this Sunday morning.
The most unusual thing on the menu was the eggy crumpet, described as "egg-soaked crumpets served with tomato and avo". What happened to coating them in golden syrup?
We ordered the eggs benedict ($18) and the Big West Fest ($18.50). The benedict was just right and the rosemary garnish and lemon wedge for the hollandaise were nice touches. The Big West Fest drew attention from all sides, with crestfallen customers expressing regret at their own, more conservative orders. Poached eggs, bacon, mushrooms, baked beans, a sausage and a side of relish were all packed on the plate without causing any presentation problems.
Delicious and extremely filling.
The coffee was very good and a wide range of leaf tea was also available. The tea was served in "proper" china.
The service was friendly and efficient, despite the mass of patrons.
We recommend if you come here you check out the cabinet food as well. It looked equally excellent.
Overall we thought this is the best cafe in Henderson