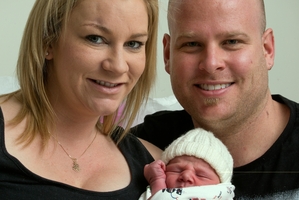 For Darren Liffler and Ellen Faulkner little Ruby is a princess all of their own. The first-time parents from Albany had their baby at 3.23am on Monday morning - but because of the time difference she'll forever share a birthday, July 22, with the Duke and Duchess of Cambridge's first child.
Ruby also shared the same birthweight as the new prince - 3.9kg.
Ms Faulkner, 21, has simple hopes for her daughter.
"We want the same kind of upbringing [for Ruby] that we had ... Down to earth, definitely happy, healthy and fun."
Ms Faulkner joked their Princess Ruby was kind enough to come five days early.
"It doesn't get much better than this. I was well and truly over the being big thing. I just wanted her in my arms."
The pair are pleased their little one will share a birthday with the Prince of Cambridge and wouldn't mind one of the 2013 commemorative coins the Royal Mint has struck for British babies.
At the same time they feel a little sorry for Prince William and his wife because of the scrutiny they've faced throughout the pregnancy.
Harper Edmonds' dad Kyle was beaming about his newborn son's sense of timing yesterday.
The 2.99kg infant arrived at 3.26am at North Shore Hospital, just two minutes after the royal baby's birth, 4.24pm (UK time).
"Two minutes. Far out, that's awesome.
"We actually talked about that in the early stages, we said to each other 'Imagine if they were born on the same day'," Mr Edmonds said.
Harper's mother, Christina Mayn, 27, said the birth should see some realigning of the calendar - a public holiday wouldn't go astray for the prince's birthday, she joked.