Birth of future king dominates media, peaking at 25,000 tweets a minute.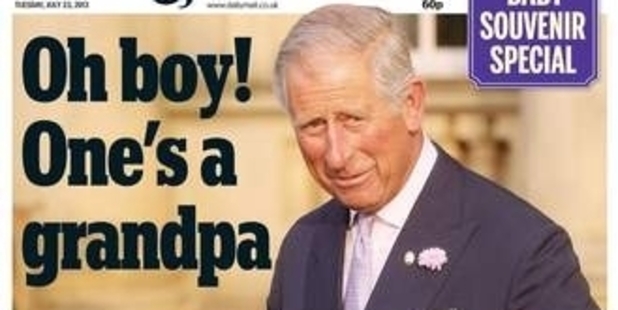 The British are known for their hugely popular tabloid newspapers and a love of all things royal.
So the birth of a future king was always going to get the headline writers trying to outdo each other on the front pages.
The Sun replaced its regular masthead with "The Son" and a photo of the official bulletin announcing the baby's birth which was displayed on an easel in the forecourt of Buckingham Palace. "Regal has landed," the paper cried.
The Daily Mail - in a move panned by some media critics for not featuring the new parents - had Prince Charles looking pleased with himself, arms outstretched, with the line "Oh boy! One's a grandpa".
The Daily Mirror ran a picture of Prince William hugging Kate with the headline: "Our Little Prince".
The Times had a souvenir wrap-around with the words: "Welcome to the World".
The left-leaning Guardian went with "A birth, a boy, a prince, a king".
The Independent tried to have a bet each way with a critical front page stating: "Special Delivery: Princess Gives Birth to a Prince - and a Global Media Frenzy Begins".
Check out a gallery of the front pages below: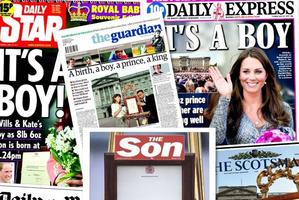 And it did. Social media sites went into overdrive. The post-natal Twitter prattle peaked at 25,300 tweets a minute seconds after the birth was confirmed.
That was still well below the world's highest Twitter spike - 327,452 tweets a minute after last year's first US presidential debate.
On Facebook, the action was equally fast-paced. There were 3.5 million mentions of the royal baby, the buzz peaking moments after the announcement with 31,000 mentions of the new Prince.
Britons posted the most on Facebook, followed by Americans, Canadians, Italians and Australians.
- AAP