Bringing some South African flavour and flair to Restaurant Month is visiting star chef Luke Dale-Roberts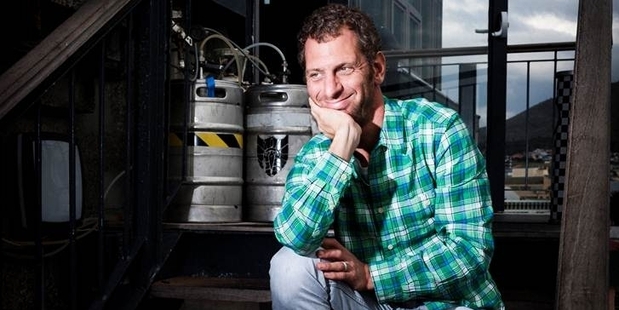 Luke Dale-Roberts is a hard man to pin down. He has been busily overseeing renovations to his award-winning, fine-dining Cape Town restaurant, The Test Kitchen. Upstairs, its more casual, shared-plate offshoot, The Pot Luck Club, is about to reopen after being closed for a couple of weeks.
It is early morning in South Africa but Dale-Roberts has soon thrown off any remnants of sleep to enthusiastically talk food and to discuss his upcoming visit to New Zealand.
The British-born chef's passion, energy and downright talent have seen The Test Kitchen win this year's prestigious One to Watch San Pellegrino award for restaurants worldwide. Opened in 2010, it is also number 61 on San Pellegrino World's Best Restaurants list, having entered the ranking at number 74 in 2011. And last year, it was named Best Restaurant at South Africa's Eat Out Awards.
This global attention doesn't faze Dale-Roberts who has lived in South Africa with his young family for seven years. He has made the San Pellegrino list twice before, as executive chef at La Colombe in Cape Town, which was ranked number 12 in 2010.
He left to start his own venture.
Next month he and Pot Luck Club head chef Wesley Randles will showcase their skills in Auckland with a special tasting menu at Clooney, in conjunction with head chef Des Harris, as part of the city's Restaurant Month.
"It's always motivational to win awards, they are a trigger for me to reassess what I'm doing," Dale-Roberts says.
Indeed, he seems to be constantly reassessing. His is a technique-driven, eclectic style and his menus never stay the same for long.
"It all depends upon my ideas but I add a couple of new dishes every week. The whole menu changes every six months. With my head chef, I am known for these dynamic changes."
Dale-Roberts hasn't decided upon his Auckland menu yet. It's too far into the future. But he says he's keen to use as many New Zealand ingredients as possible: "I hear the venison is very good there."
A clue, perhaps. And he hasn't decided whether or not he will be making his signature dish - wild mushroom and duck liver chawanmushi (Japanese egg custard) with morel-glazed sweetbreads. "I might do it," he adds, "but I get bored with them [the same dishes]."
He admits his food is quite complex, yet more real these days: "simpler for the guests but still complex to create.
"I am using more African produce. For instance, there's a thing called a 'Smiley' here [a parboiled, then charred, sheep's head]. I am serving a pig's head that's been slow-cooked for 16 hours and then charred so it is super crisp. It is not a poncy dish. We present the head whole at the table but then cut it up in the kitchen so that even the most delicate young lady diner can eat it."
This is served with accompaniments that include honey, apple and blue cheese sauce.
Dale-Roberts spent five years in Southeast Asia and the Far East in various positions before settling in South Africa to eventually open the industrial-styled restaurants in Woodstock's Old Biscuit Mill.
"We [he and wife Sandalene] really enjoyed Seoul, immersed ourselves in the culture and lived there like locals for three years."
He has opened several restaurants as well in Singapore, Malaysia and the Philippines and says his cooking has been influenced by these cuisines. However, he adds: "I don't want to be pigeonholed so I am moving away from Asian flavours in The Test Kitchen, but they will still be there in The Pot Luck Club.
These days, Dale-Roberts says he is giving more attention to the vegetable components in a dish. He cites one of his recipes using veal tongue and mussels.
"That dish is really all about carrots," he adds. The vegetable is served in a variety of ways.
The Test Kitchen has no a la carte dinner menu and Dale-Roberts has plans to phase out his three-course menus. Instead, he wants to concentrate on his tasting menus with more, smaller courses.
"It's all about the experience. I can play a lot more with a longer menu but I don't want to ostracise people. It's a fine line between indulging them and indulging us!"
The exacting chef, who still does the dinner service every night, was trained at Baur Au Lac Hotel in Zurich (at the time recognised as one of the top five hotels in the world).
On returning to London he worked at French fine-dining restaurant Elenas L'Etoile under Roux Brothers protege Kevin Hopgood, now the chef/patron of Hopgood's restaurant in Nelson.
"Kevin pretty much taught me to cook 15 years ago," Dale-Roberts says.
"And now he's coming up to see me when I am in Auckland."


A Taste of Test Kitchen at Clooney, August 14, $250 a person including wines. For ticket sales see iticket.co.nz.