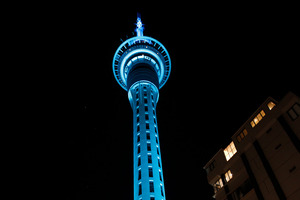 Landmarks around the country will be illuminated by blue lights tonight in commemoration of the birth of the royal baby boy, the Prince of Cambridge.
The gesture was organised by Monarchy New Zealand and has been taken up by towns and cities from Russell to Invercargill. International landmarks have also picked up on the bright idea.
So far, 40 landmarks, including Auckland's Sky Tower and Tirau's corrugated iron dog will be bathed in blue light from dusk.
Monarchy New Zealand spokesman Sean Palmer said part of the reasoning behind lighting up the landmarks was it helped to "pull the country together a little bit".
"It also draws world attention to this ... and it stresses New Zealand's connection (to the Monarchy)."
Click around the map or have a search to find out all the landmarks that will be lit up:
Illuminated landmarks:
* The Duke of Marlborough Hotel (Russell)
* Old Town Hall (Whangarei)
* Victoria Canopy Bridge (Whangarei)
* Sky Tower (Auckland)
* The Cloud (Auckland)
* Auckland War Memorial Museum (Auckland)
* Holy Trinity Cathedral (Auckland)
* Victoria Bridge (Hamilton)
* Clock Tower in Jubilee Gardens (Cambridge)
* Town Hall (Cambridge)
* i-Site Dog (Tirau)
* Clock Tower (Te Aroha)
* Princes Gates (Rotorua)
* Tairawhiti Guardian Sculpture (Gisborne)
* Town Clock (Gisborne)
* Great Lakes Centre (Taupo)
* Clock Tower OR Puke Ariki (New Plymouth)
* Gilray Fountain (Napier)
* Royal Wanganui Opera House (Wanganui)
* Regent on Broadway (Palmerston North)
* Clock Tower (Palmerston North)
* Clock Tower (Palmerston North)
* Wairarapa Times Age Building (Masterton)
* Albatross Fountain (Wellington)
* The Majestic Centre lights (Wellington)
* Digital Wall Wellington Airport (Wellington)
* Michael Fowler Centre (Wellington)
* Christ Church Cathedral (Nelson)
* Trafalgar Street Bridge (Nelson)
* War Memorial Clock Tower (Blenheim)
* Amuri Avenue (Hanmer Springs)
* Christchurch Airport (Christchurch)
* New Brighton Pier (Christchurch)
* Opera House (Oamaru)
* Town Hall (Dunedin)
* Toitu Otago Settlers Museum (Dunedin)
* Wall Street Mall (Dunedin)
* Larnach Castle (Dunedin)
* Otago Boy's High School (Dunedin)
* Southland Museum and Art Gallery (Invercargill)
- APNZ