Looking stylish every day is about doing your homework says fashion stylist Anna Caselberf. Add only what's essential to you closet and subtract ruthlessly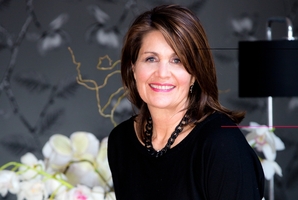 Anna Caselberg has never had a problem with being thrown in the deep end. As a young woman, fresh home from her OE in London, Caselberg, who'd trained as a photographer and made the move to styling, was asked by magazine doyenne Paula Ryan to style the clothes on a major Fashion Quarterly project. It was her first job for the title.
"A 10-page shoot at Huka Lodge with Rachel Hunter. I thought, 'Brilliant, let's go'."
She nailed the brief and her instinct for building a 'look' has served her well ever since.
"I love the interpretation of clothes - all the ways you can give personality to a garment and put a spin on it."
Years later, when she realised this appreciation was not common sense, she began hosting workshops.
"I kept getting asked the same questions so I decided to write a book."
The Closet Stylist: Your Guide to Personal Style offers the tools for pulling together a wardrobe that works for you. It's an informative, inspirational handbook on how to dress to suit your body shape and incorporate trends, without spending a fortune. Viva spoke to Caselberg about her mission to make "fashion understandable to the everyday woman".
You've been a fashion editor for numerous magazines, where did it all begin?
Initially, I studied to be a nurse but, on finishing the training, decided I'd prefer something more creative. When I arrived in London, I enrolled in a photography course and also worked as a nurse at the National Theatre on the South Bank. I was allowed to sit in on rehearsals and it was inspiring to see so much great British theatre. Since I was studying photography, I started taking portraits of the actors.
As a girl from New Zealand, didn't you find working with actors and models daunting?
Things were so much easier then. I lived in a flat in Fulham and belonged to a photographers' club in Covent Garden, so I'd use their darkroom. Through my job at the theatre, I made friends with a couple of actors who were great portrait subjects.
Around this time I was also creating a fashion portfolio as a stylist with a photographer who worked at the BBC. We had access to Fashion Week and I still have my images of John Galliano's final St Martin's show.
I ended up using the BBC studios on weekends and joined forces with a friend, Derek Muir. We'd approach the PR people of clothing designers and ask young models, keen to get pictures for their portfolios, to participate in shoots. That's how my involvement in styling began.
What keeps you passionate about the world of fashion?
The way trends change and the pace of the industry. For example, the emphasis has been on the shoulder and sleeve these last few seasons, at first with a pointed padded shoulder and now with a dramatic rounded drop shoulder. It's interesting to incorporate these new proportions into current looks.
How would you describe your personal style?
I like a tailored look but skewed or undone in some way. I look for clothes with form, cut close to the body, rather than a loosely layered or bohemian style.
In your opinion, what is the number one mistake women make with their wardrobe?
Mostly, it's just not spending enough time trying to understand which style best suits them. It ends up with a personality mismatch so the clothes start to wear them.
When giving your wardrobe a revamp, how do you begin?
I liken a wardrobe to a pantry. You need several good basics, some tried-and-true components and the 'wow' ingredients. Then you can pretty much create anything. Pull everything out of your wardrobe and whittle it down to 30 pieces. At the start of each season, take half an hour to look at what you have (or need) to create at least six basic outfits that can be tweaked. I say six because we all need a day off.
What are the factors to consider when putting together these ensembles?
Well, there's the weather, but also think about lifestyle, workplace and budget. Make sure you have your work outfits sorted. Update your look from last season with a new top or knit. Add a jacket to go with your basics which, depending on your home/work environment, can mix with either tailored pants or jeans.
Try the looks on and work out which accessories pull them together. This will focus you to spend wisely when you do add a new piece, be it a bag, boot or belt.
It sounds easy but so few of us are that organised?
Yes, but like cooking, I argue that it's one of life's basic skills. Which one of us doesn't have a few recipes we can whip up successfully? It's important to plan your wardrobe in order to avoid that morning panic when you look at the closet and think: 'What shall I wear?'
As a young woman in London studying photography, I had little money but I loved clothes. When an uncle once gave me a generous cheque, I went to my favourite boutique and spent two days trying on everything to find out what suited me. Those are the proportions I still wear today.
Many people still don't know if something looks right. Create your looks and know which accessories best suit them, then make these your go-tos for any season.
Should we choose clothes to a prescribed colour palette?
Many women have 'had their colours done' and this is a good place to start, but be mindful that your colours can subtly change over time. As we get older, our skin becomes more sallow. Skin and hair colour change, either naturally or at will.
Learning to identify which tones you suit is the key. This will be soft, warm, lighter shades or clear, vivid shades or, if you're lucky, either. The easiest way to tell is to hold the fabric near your face and see if your skin and eyes look fresh and bright.
You're quite a fan of using colour in your wardrobe.
I am making an effort as colour is so uplifting. It's a slow process, though, and I have only just graduated to shades of blue, navy and grey.
We opt for black too often in New Zealand. I love black, especially at night, but rather than wear layers of black for daywear, make it interesting by mixing textures.
It's great that all those old colour rules are falling by the wayside. It's perfectly acceptable to wear navy and black or brown and black together. And the days when it was chic to match a bag and shoes are gone; it's more interesting to mix colours that tone.
Does your styling sense in fashion translate to the home?
I live in a 50s house in Orakei overlooking the water so it's a relaxing space, not highly 'styled'. Twelve years ago we had the kitchen done by architect Daniel Marshall. It's in a light-toned Canadian maple that keeps the airy feel. We installed skylights in the living area and French doors to access the decks.
Similar to fashion styling, I like to use key investment pieces and build looks around them. I also stick with the 'something old, something new' philosophy.
When we couldn't find a coffee table we liked, we had one designed by Daniel Marshall but I absolutely love the leather pouffe my husband, Michael, brought from Egypt many moons ago. My daughter Bella's collection of fluoro orange and yellow candlesticks often comes out on to the table when we entertain.
I particularly love Persian food because it's so vibrant and fresh, with lots of vegetables, nuts, fruits and herbs.
You must have quite a collection of fashion books and magazines?
When I left the UK in the 80s, I brought all my old Interview magazines with me as it was their portraits that inspired me way back then, and still do. I couldn't afford to transport my British Vogues so I ripped out all the fashion spreads and had them bound.
If there is one lesson you could teach us about clothes and styling, what would it be?
Take the time to go on this voyage of self-discovery. A good wardrobe doesn't just happen. Stylish women through the ages have so often been dressed immaculately by designers, or have no budget constraints. Women who spend time observing fashion trends, reading magazines, browsing the web or who have a deeper purse and can shop, educate themselves naturally, just as those who prefer interiors probably have homes with great style. But we have to dress every day so it's wise to have it sussed.
If you put more time in, the more you'll come to understand what really suits you. You will look good and feel more confident, all components of good style.


• The Closet Stylist: Your Guide to Personal Style by Anna Caselberg (Penguin Books, $40).
- VIVA