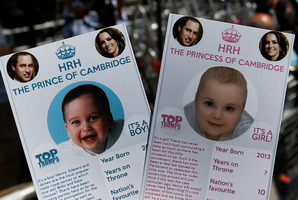 The Duke and Duchess of Cambridge are expected to pick a traditional royal name for their newborn baby prince.
Royal infants mostly have historical names which are passed down through the generations.
Charles Kidd, editor of Debrett's Peerage and Baronetage, predicts William and Kate will select a conventional first name for their son.
"I do think that Prince William is quite a traditionalist - that's my feeling," Mr Kidd said.
"The fact that he chose to use the royal dukedom (of Cambridge) and has followed royal precedent, I wouldn't be surprised if they use a name that is already familiar in the royal family - something that has royal associations."
He suggested that George - a favourite at the bookmakers - could be their name of choice.
There are also predictions the couple will honour William's father the Prince of Wales by choosing Charles and the Duke of Edinburgh by selecting Philip.
Midway through her pregnancy, Kate revealed she and William had a shortlist of names and that her friends were giving her ideas.
"We have a shortlist for both (boy and girl) but it's very difficult. My friends keep texting me names,'' she told a well-wisher.
The baby, which will eventually be king, will be styled HRH Prince (forename) of Cambridge. Should he require a surname, such as on marriage, it will be Mountbatten-Windsor.
One day the baby is also likely to become the Prince of Wales. The title is usually given to the male heir to the throne, but it is not automatic.
Royal babies also usually have a number of middle names. The Prince of Wales has four names, as does William.
Here's a look at some potential baby names:
GEORGE:
A popular royal name, with six King Georges having worn the crown since the German-born George I, the first Hanoverian king of Great Britain, acceded to the throne in 1714. Has come to symbolise the continuity of the monarchy.
CHARLES:
William is close to his father and most likely wants to honour him. Also name of Diana, Princess of Wales's brother, Earl Spencer. But could be unlucky for a king: Charles I was executed and Charles II's reign featured the plague and Great Fire of London.
PHILIP

William and Kate also expected to acknowledge William's grandfather and the Queen's consort the Duke of Edinburgh in the names they pick. Charles and William have Philip as middle name.
FRANCIS
Recurring name in Kate's family tree. Middle name of her father and grandfather. Feminine form of Francis, Frances, was also Diana, Princess of Wales's middle name.
JAMES
Popular at bookmakers. But William has a cousin James - the Earl and Countess of Wessex's son Viscount Severn. Could be used as a middle name to signify Kate's affection for her brother, the baby's uncle James Middleton.
OTHER NAMES:
Perhaps William as a nod to the Duke, or Michael as middle name out of respect for Kate's father. Kate's paternal grandfather was Peter, her maternal grandfather was Ronald. Name Thomas also on both sides of her family.
Harry was the most popular first name for boys born in England and Wales in 2011. William and Kate could include Harry or even Henry, Prince Harry's actual first name, as middle name.
- PA