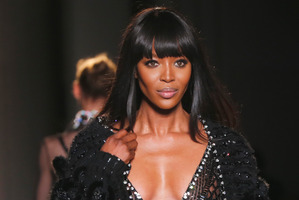 The founder of the Elite Model Management agency, the man credited with creating the era of the supermodel by launching the careers of Cindy Crawford, Naomi Campbell and Linda Evangelista - has died, aged 70.
John Casablancas - the father of The Strokes' singer Julian Casablancas - was as famous for his playboy lifestyle and good looks as for the panache which revolutionised the comparatively staid world of international glamour in the 1970s.
Although he revelled in the company of beautiful women, he was later to publicly turn on some of his most successful protégés, on whose behalf he had helped negotiate stratospheric fees, and to rue his invention of the entire supermodel phenomenon.
Although he was not implicated in allegations of wrongdoing, in 2000 he stood down as chairman of the world's biggest model agency following a controversial undercover BBC documentary into Elite, which showed the company's European agents boasting of their drug use and sexual conquests of young models.
Casablancas quit the industry and went on to denounce the women and their handlers who had come to dominate the catwalk and lucrative photo shoots as "spoilt pains" surrounded by "idiots and leeches". He described Heidi Klum as a "talentless German sausage" and Naomi Campbell as "odious". He said: "Apart from Linda Evangelista, no supermodel has ever thanked me when she got to the top."
But he remained popular with some of the women he worked with. The Brazilian supermodel Ana Beatriz Barros paid tribute on Sunday to the man she described as "my mentor... a true friend and inspiration". The Polish-American model Joanna Krupa said he was "one of the most amazing people I have ever met in my life".
Born in Manhattan to wealthy refugee parents who had fled the Spanish Civil War, he lived an early privileged life travelling and flitting between jobs.
He founded the model agency in Paris in 1972, challenging the then dominant Ford agency not just to represent the world's most beautiful women but also espousing a champagne lifestyle for his charges which was starkly at odds with the prevailing business ethos.
The entrepreneur ended up being sued by Ford and winning - earning yet more notoriety. At its height Elite generated $100m a year in bookings fees. The success and arrogance of the age was encapsulated in 1990 when Evangelista famously declared: "We don't wake up for less than $10,000 a day."
Although he was later to regret it, Casablancas encouraged the women to become celebrities in their own right. He persuaded Cindy Crawford to pose for Playboy, a career move which turned her into the world's highest-paid model in 1995, earning $6.5m. His private life was equally colourful. In the 1980s, a relationship with the then 16-year-old Stephanie Seymour ended in the break-up of his second marriage. Looking back on his career in 2010 he said: "I had the understanding of a guy who loved beautiful women and above all who liked the sensuality of it all. All of the other agents were either women or gay guys. They had their own approach, which in certain instances was probably superior to mine, but I had something I thought was unique. I looked at my models as women."
Casablancas had been receiving treatment for cancer in Brazil, where he spent much of his later life.
- INDEPENDENT