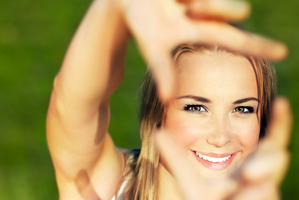 When we are creating a conscious programme of change and self-development in our lives it's helpful to look from two different perspectives. Both are from veeeeery far away: from really old, and from really young.
As we race through life we are so close to the action, keeping all the balls in the air, that we can be just too close to see what's really going on. It's like going to Silverstone to see the British Grand Prix (one of my least favourite corporate jollies of all time, ungrateful wench that I am).
I got to the place down by the track behind the barriers full of anticipation. Grand Prix: woot! And then spent the whole day able to see an approximately 50-yard section of track and a blur of random cars going past. No idea whatsoever of who was first or last or who was lapping who. Or, indeed, who was who. A manic blur of activity with no perspective of the big picture at all. To me it seemed utterly pointless. I would much rather have watched it on the big screen with a glass of wine in hand so I could have seen who was winning, or overtaking and see the whole race unfold.
The ringside seats were just too close to have any sort of valuable perspective.
Life can be the same. We have a ringside seat at the centre of our own action but it's so noisy and busy we rarely get the opportunity to look up and see the overall picture of the whole race. Is the map that is the whole of our lives unfolding in the way we want? When we are only looking at the few yards in front of us it's very hard to reasonably get an overview of our overall direction.
Connecting to this really big picture is so important. The big questions. Why am I here? What is my purpose? How do I leave the world a better place for having been here? It's a little morbid I know but taking a moment to pause and consider this can connect us to the "Why?" in our lives in a really meaningful way.
When we connect with these deep values they serve as spiritual fuel to propel us forward and clarify the choices we want to make long-term. They can also help us to remain disciplined, to stay on track. To have strength in the moment to choose what we want most, not what we want now.
So, have a wee ponder as you zoom the perspective right out on your own life. Imagine you are rocking in your rocking chair on the porch at 90, blanket on your knee with a nice cup of tea.
What do you want to be remembered for? What would you like to be your eulogy? What are you most satisfied with in your life?
How will you leave the world a better place? What are the three qualities, characteristics or accomplishments about you that will be remembered?
Do you have a legacy? What is it? Why is it important to you? To others?
What do you see yourself having, learning, doing, seeing, creating in this long, long life of yours? What do you want to have happen to declare a beautiful life well lived?


Action step
Take a little time to absorb this perspective and note down your answers: they will be food for thought as you start to incorporate elements from this vision into your life. Next week we will flip the perspective and look at learning some valuable insight from your younger self.


Louise Thompson is a life coach, yoga teacher and corporate escapee. For more from Louise, visit positivebalance.co.nz or connect on Facebook.