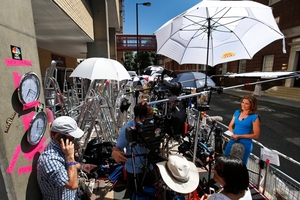 World media remain on alert for the birth of the royal baby this weekend.
Rumours of the Duchess of Cambridge in labour sent journalists scrambling outside St Mary's Hospital yesterday.
Newshounds also jumped at whispers she had been whisked away to another hospital. But each event resulted in more disappointment.
After a week stationed outside the London hospital, news crews are running out of things to ask each other for live bulletins.
Meanwhile, experts in maternity care warn the birth could still be days - or weeks - away.
Some are convinced the royal due date has already passed for Prince William and his wife to have their first child, the future heir to the English throne, though Buckingham Palace has not given an exact date.
Many in the British media predicted the baby would be born last week, and the Prince himself is now on official leave.
Dozens of reporters have staked out the Central London hospital where Kate is expected to give birth. The palace has said only that the Duchess is due to deliver the baby in "mid-July".
Speculation about the gender and name of the baby hasn't relented during the extended wait.
Bookies are favouring a baby girl (odds 3-1) compared to a baby boy (odds of 9-4). Popular boy names include George or James.
Also on the list of strong possibles are Diana, Elizabeth, Charles and Philip. Barack (200-1) and Elvis (500-1) are at very long odds indeed.