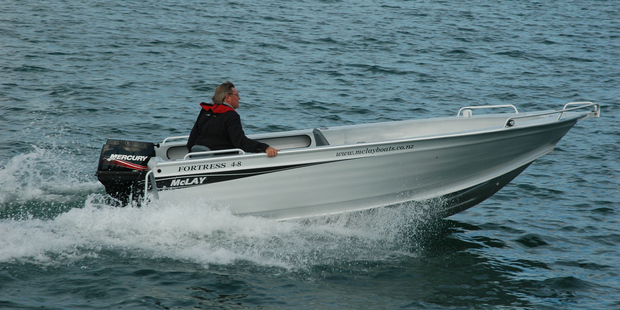 Regular readers of the Marine page will no doubt have noticed that many of the new craft we feature do not originate on these shores. The larger vessels, in particular, tend to be either built in Australia or imported by an Australasian distributor.
So it is a pleasant change to find one going the other way.
The McLay 4.8 Fortress is a fishing-focused runabout that, while designed and built in New Zealand, gained its popularity on the other side of the Tasman.
McLay Boats, based in the small Otago town of Milton, is best known here for building good-looking, strong, blue-water cruisers able to comfortably cope with virtually any weather.
However, in Australia, much of the boating - especially the fishing - is quite different to ours. Where we tend to spend a lot of time in open, exposed conditions, a lot of their boating and fishing is done in sheltered inland waterways and estuaries.
As a result, blue-water performance is much less of a priority; low cost, ease of use and fishability are far more important.
Perhaps coincidently, the demand for this type of vessel has also increased here in recent years. Companies such as Fish City, Stabicraft and others have discovered that there is a growing market for small, relatively simple and fancy-free runabouts that are easy to launch and don't cost too much.
Noting this, McLay Boats' designer and builder, Steve McLay, decided to pull an Australian-bound 4.8 Fortress off his production line and put it on display instead at the Hutchwilco New Zealand Boat Show in Auckland in May.
He was surprised and pleased by the response, especially as the design was largely driven by his Australian dealers (he has four: two in Queensland and two in Western Australia).
McLay has clearly given them what they wanted; almost 150 have already been sold, many in North Queensland.
The 4.8 Fortress on display at the show was a tiller steer version and set up as it would have been in Australia. The one difference was the horsepower: here it was fitted with a Mercury 40hp manual tiller steer 2-stroke, at the lower end of the recommended power range.
McLay says the Australians generally prefer to put outboards in the 50-70hp range on the back of the 4.8. Apart from the cost and towing weight, the big difference is obviously top speed. With the 40hp this is 22 knots, a 50hp will give around 26 knots and a 70hp around 35 knots.
I am not sure there is much need for 35 knots from a tiller steer 4.8m runabout to be frank, although it may be worthwhile if one was opting for a side or centre console layout.
Although the 4.8 Fortress will be competing at the lower end of the price market, McLay has been unwilling to compromise his built-tough reputation. Unlike some of its competitors, the Fortress has been built using 4mm plate on the bottom and 3mm on the sides. The fully welded 3mm tread plate floor provides additional stiffness to the boat and all the under-sole cavities are either sealed air chambers or filled with closed cell foam. The boat has a dry hull weight of 370kg and meets both Australian and CE standards.
With tiller steering, there is little to clutter the cockpit. There is a casting deck for'ard, a transom with bait tanks aft and just a couple of seats in between. McLay has thoughtfully installed five blind seat sockets at strategic spots around the cockpit, meaning skippers can position the two seats virtually anywhere they want.
This is not only good for fishing, it also means it is incredibly easy to balance the boat when under way (not always the case with a small aluminium boat). Two moulded plastic seats and their bases are part of the standard 4.8 package and one can presumably add more if required.
There are twin lockers, complete with top hatches, in the transom, one for storage, the other for use as a bait/kill tank. There is a small boarding platform, with handholds, on either side of the engine and a 1100-gallon-per-hour bilge pump is also part of the package. If a battery is required (to run an electric start engine, nav lights, a VHF or small MFD) this can live either in the starboard side locker or on a shelf under the transom well.
The package comes with four rod holders, side lockers and rod stowage plates for those who want to fit their own rod racks.
The casting deck is of the sort usually seen on Australian or American fishing boats but it could well become popular here, too, especially among those who prefer softbaiting. It also has other advantages. It provides the vessel's only dry stowage (a spacious area able to cope with tackle boxes, clothes, a camera bag and even a spare tote tank). Thanks to one of those seat sockets, it is also a good place to sit while waiting for the fish to bite.
The bow area also has a special platform for an electric trolling motor, which could be good for those wanting to use the boat to stalk trout in the shallows.
Those who don't like having their tote tank sitting exposed at the stern can choose to stow it under the casting deck instead and plumb in a long fuel line. Alternatively, McLay can build in a 70-litre fuel tank under the casting deck, although this will dramatically affect the amount of dry stowage available.
The McLay Fortress is available in a variety of sizes ranging from 4.4m to 5.5m and all are available in tiller steer, side console or centre console versions.