Arnott's Tim Tam Double Choc Vanilla - $2.69 for 5 biscuits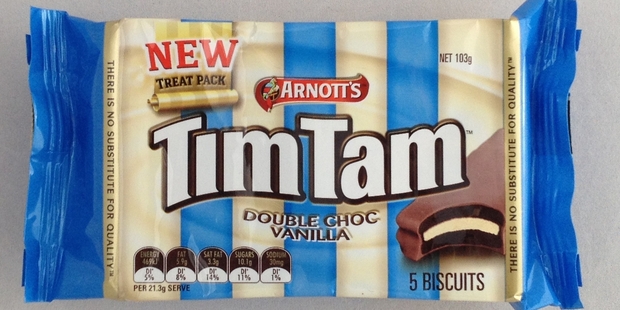 I have resisted looking at Tim Tams since I began this column for the very selfish reason that I really like them and what you don't know, can't hurt you.
But, as it is school holidays, and conveniently these have arrived on shelves as a "treat pack" of five biscuits I felt it was probably time.
My daughter has also just learned the trick of biting off both ends and sucking a hot drink through the centre, so there have been quite a few Tim Tams through the house.
Packaging treat foods in smaller packets is a great idea because it gives just enough for a treat, but not enough for a full-on binge. Kids (and adults) are more likely to stop when the packet is empty and in this case five biscuits is a good number for a couple of kids to share.

Ingredients
• Sugar - These are high in sugar, of course. You will get 10.1g per 21.3g biscuit which is 2.4 teaspoons.
• Wheat flour
• Vegetable oil (contains soy) - This will most likely be soybean oil as it contains soy.
• Milk solids - These are the solids left over when you dehydrate milk.
• Cocoa butter - I like it when chocolate products include cocoa butter as it means the chocolate is going to taste better and it is a high quality chocolate. Some chocolates use oil instead.
• Cocoa mass - This is ground cocoa beans which form a paste.
• Golden syrup - This will be in here for flavour.
• Cocoa powder - Cocoa as you would use in baking.
• Colours (E150c, E160B) - The first colour is caramel III (E150c), which is made by heating sugars with ammonia. The second is annatto (E160B), which is a natural dye taken from the seed coat of the tropical annatto tree.
• Emulsifiers (E322 (from soy), E476) - These are soy lecithin (E322) and polyglycerol polyricinoleate (476), which is made from polyglycerol and castor oil.
• Salt - Raising agent E500This is good old baking soda.
• Flavours - These will be artificial as no mention is made of natural flavourings.

My recommendation
Well there's not too much to complain about here. There's artificial flavouring and I don't like caramel colouring because of the process it takes to make it. And these are high in sugar.
But, as a treat, there are some good simple ingredients in here and the packaging of a treat pack is a great idea.

Highlights
• 2.4 teaspoons of sugar per Tim Tam
• 5 biscuits per pack which discourages binging.
• School holiday treat food.

• Read Wendyl's other columns here.
Do you have a food product you would like to feature in Wendyl Wants to Know? Email wendylwantstoknow@gmail.com with suggestions. Unfortunately Wendyl cannot correspond with readers.