Kiwi crime fiction is top class, writes Nicky Pellegrino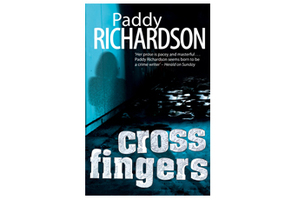 Cross Fingers by Paddy Richardson
(Hachette)
Paddy Richardson blends social comment and history in her well-written novel. Although she's an award-winning writer of crime fiction, Dunedin's Paddy Richardson seems to have flown a little under the radar so far. I hope her latest novel, Cross Fingers, will change that.
Like her previous books, it's a pacey psychological thriller, but it's also something rather more.
Cross Fingers sees the return of sassy young TV journalist Rebecca Thorne, who appeared in Richardson's previous novel, Traces Of Red. When this story begins, Rebecca is feeling pretty good about her life. Things are going well with her boyfriend, Rolly, she's about to head off on a blissful tropical island holiday and on her return she will pursue a corker of an investigative story about a bent property developer.
So when her boss pulls her off the story and instead makes her work on a documentary about the 1981 Springbok tour of New Zealand, Rebecca is less than thrilled.
What can she possibly say about the tour that hasn't been rehashed time and again?
When she discovers her parents were part of the protests and were caught up in the infamous bloody clash with police on Molesworth St, her interest is aroused.
As Rebecca digs into the material she becomes fixated on two (fictional) protesters. Known as the Lambs, these two gay dancers - disguised by their costumes - kept people amused with their antics until, without warning, they disappeared. Who were they? What became of them? No one she interviews seems able to tell her.
Then things take a sinister turn in Rebecca's own life. She splits with Rolly and is convinced he's stalking her. She starts getting crank calls, someone is texting her mysterious photos and things begin going bump in the night.
Richardson ramps up the tension and throws in a red herring or two, just as you would expect in a psychological thriller. Where Cross Fingers is different is in the way Richardson treats her background material. As Rebecca conducts interviews for her documentary their first-person accounts are woven into the story. From members of Citizens Opposed To The Springbok Tour (Cost) to the notorious Red Squad, the events that shocked and shook New Zealand are examined from every angle.
Richardson takes a pretty balanced view of the issues and the conflict, but still packs plenty of drama and passion into these accounts. For me, there were perhaps a couple too many of them, particularly in the final third of the book. But I wasn't in New Zealand during this landmark time, so for me no emotions or memories were stirred up and, I suspect, that makes a difference.
Part thriller, part social comment, part history, this is a very New Zealand story, stylishly written and compellingly plotted. If you still think our crime fiction can't possibly stack up to the international stuff, give Cross Fingers a go.