Each week Rachel Grunwell tries a new sport to bring you the lowdown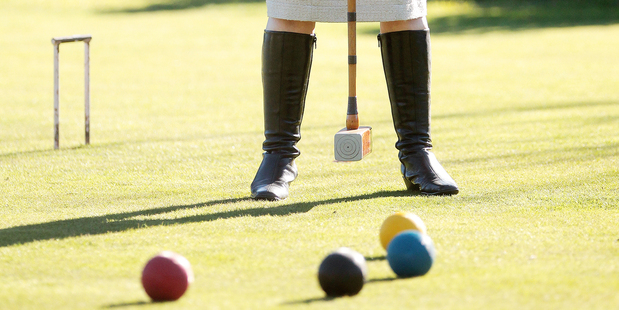 Golf Croquet
What is it? You use a mallet to hit four balls through hoops on a grass pitch. It can be player against player or two against two. The first to get their ball through seven of 13 hoops wins.
What's needed? Flat shoes. Gear provided.
The experience: I'd sign up to the Mt Albert Croquet Club for their morning tea alone. There are dozens of home-baked, still-warm, cookies plus retro sandwiches that are perfectly cut, triangle-shaped, crustless pieces of art stuffed with egg, tomato, ham and cheese. Fresh tea steams under a woolly tea cosy.
"This is really just an eating club," says a club member. Word obviously hasn't got out about their tucker because the club has only 22 members. Only 44 eyes regularly see this place, and 22 mouths are lucky enough to gobble that fare.
I'm greeted by half the club, plus the Queen (her picture is prominently on the wall), and sparrows perched on the metal hoops on the grassy pitch.
This place is a 100-year-old hidden gem; it's down a long, narrow path among big, grand bungalows in Auckland's suburb of Mt Albert.
Committee member Amanda Willis tells me I'm about to step back in time to play a game that originated when women were "ladies". It was for women only; men played bowls. It's not the ancient game of association croquet that's played here; it's golf croquet, which is simpler and shorter (45 minutes compared with 2 hours).
I've never played; I've only seen a version of it in Alice in Wonderland, where the mallets are live flamingoes and the balls are hedgehogs.
Amanda assures me the game is easy to pick up. Our team must hit one of our two balls through seven hoops before our competitors. I may attack an opponent's balls (this is why croquet has a rep as "vicious"). Or you can help get your partner into a better position. Think strategy, not strength.
Amanda and I team up against 70-somethings Ken and Dianna Parris, who took up the game five years ago after he injured a shoulder. They wanted a gentle, social game. "He's found it like some people find religion," Dianna jokes.
The couple bring their grandkids sometimes. That's the beauty of this game - any age can play, although most members are older.
But the club does boast about "a young fella" who mowed the grounds. He ended up at the world croquet champs (under-21s). His picture's on the wall, too, near the Queen's.
It takes me a while to suss how hard to whack the balls. It sounds easy, but the hoops are only an eighth of an inch wider than the balls.
Amanda and Ken show off with jump shots (whacking the ball in the air to jump over another ball) and ricochet balls (hitting another ball to shove theirs through the hoop). Putting your ball through two hoops in a single shot is the ultimate.
Soon someone tinkles the tea break bell. There's eating, chatter then working off those calories.
How much? This club's annual fees are $230. Casual players $7. The place can be hired ($10pp).
Worth it? A club member says their pedometer clocked 1000 steps in one game. It's an inexpensive all-year, gentle activity.
Try it: A free open day is held on the first Sunday monthly, 2pm, 50 Lloyd Ave, Mt Albert. Search for an Auckland club at aucklandcroquet.com
Rating: 8/10