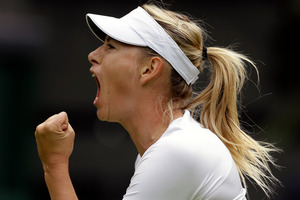 An Australian academic named Dr Murray Phillips who conducted a significant report into the sexualisation of women in sport, once wrote:
"It excludes many female athletes who do not fit into the appropriate body types, it glorifies certain female shapes and sends messages about what is appropriate and inappropriate for aspiring female athletes. These images fit neatly into stereotypes that have historically prevented women's sport from being accepted on par with men's sport."
Dr Phillips also noted that women in sport were often described in ways that stressed weakness, and portrayed as girls regardless of their age. There was also a consistent focus on their physical traits and their emotional states.
He's right, of course. The media treats sport as a male world in which the occasional sportswoman dabbles around a bit in the margins, stopping periodically to pose semi-clothed for a large brand with too much money and not enough taste.
It goes without saying that female athletes are overwhelmingly singled out for their femaleness. In the last few weeks alone, we've seen shameful sexist commentary by the BBC at Wimbledon, an outright ban on women by one of Europe's most prestigious golf clubs, some of the best female cyclists in the world petition for women's participation in the Tour de France, and the Women's Sport and Fitness Foundation lament the disparity in Olympic medals on offer between the genders.
Then there's surf brand Roxy, who has upset female surfers worldwide with its teaser advertisement for a female surf competition that for all intents and purposes ignores surfing to better concentrate on a floaty, see-through night shirt.
If this is the state of gender "equality" in the world of athletics, how will women's sport ever reach parity in terms of funding and air time? Not to mention general popularity. Will men always look at you in that bewildered way when you ask if they watch women's rugby too? Will the most famous female athlete in the world always be Anna Kournikova, the pretty but decidedly average tennis player?
Male athletes are also oggled, but that oggling is a side bar. Men already own sport, and - importantly - there's no split between their oggleability and their athletic prowess. In other words, the masculine form and athleticism are seen as compatible, so a man's sexual desirability doesn't detract from his reputation as a great sportsman. On the contrary, it's bolstered.
For women, there's still a pronounced split between their desirability and their athletic ability. Thereby female athletes are forced to hyper-feminise themselves to get noticed. Which, of course, draws ever more attention away from their role as sportswomen.
Obviously there's nothing wrong with looking at athletes' bodies. If we have to position a certain body type as ideal - and as humans that seems to be a need we have - then the strong, healthy form of a sportsperson over the malnourished frame of a fashion model gets my vote. Again, the issue lies in the separation between women's roles as athletes, and their nakedness. So: Is she naked because she's just finished an amazing surf, and do we get to see her actually surfing? Are we looking at her as a tennis player, or as a sexy blonde who just happens to also play tennis?
Still, there are signs the tide may be turning a little. Take ESPN The Magazine's recent Body Issue, in which its athletes are all naked, yes, but a different kind of naked. There's the odd silly shoot, like race car driver Courtney Force leaning provocatively on a tire in the desert, but overall the photos convey talent, force and breathtaking strength - as per the collection's mission statement:
Each year, we stop to admire the vast potential of the human form. To unapologetically stand in awe of the athletes who've pushed their physiques to profound frontiers. To imagine how it would feel to inhabit those bodies, to leap and punch and throw like a God.
As Sharan Shetty of Slate writes, "These are tactful but bracing portraits of some of the world's most renowned athletes, participating in sports as diverse as rock climbing and beach volleyball. The key here is that the Body Issue presents athletes in their element, not models in Antarctica."
The Antarctica reference is to model Kate Upton's appearance in Sports Illustrated's Swimsuit Edition. Upton has said her body started "shutting down" in the cold snow, the backdrop to a shoot which, naturally, had nothing to do with sport and featured no female athletes. Rather, its editors chose a model standing helpless in a hostile environment to best show off her cute passivity. About as far removed from "sports" as you can get.
Follow Rebecca Kamm on Twitter.