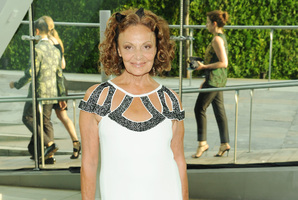 Diane von Furstenberg has opened up the vaults to her vintage collection in an online fashion blog.
The 66-year-old designer has a vast collection of retro pieces, which she keeps in her wardrobe on her Connecticut estate.
Von Furstenberg allowed fashion blogger from website Tales Of Endearment, Natalie Joos, and models to shoot images wearing her items.
"I don't need to wear vintage," Von Furstenberg told Joos in a video from the shoot. "I AM vintage."
The results from the shoot can be seen here on Tales Of Endearment. This is the first time Von Furstenberg's special pieces have been given a public viewing.
"I am the first person who had ever been in her archives," Joos told Fashionista.com.
"That was a surprise in itself. And the masses of amazing vintage was unimaginable."
Joos explained how she came to land the exclusive opportunity.
"Diane has always been on top of my list. I always wanted to shoot her but I knew it would have to be something special and organic," Joos said. "I had never met Diane before and to just approach someone without knowing them is always tough. Then I was seated next to her PR at a charity dinner and we got to talking and one thing lead to another."
Von Furstenberg discusses her iconic wrap dress in Joos's film. She has no plans to slow down with designing as she approaches old age.
"I was 26 when I invented the wrap dress. It was just a nothing little printed dress made out of jersey and before I know it I lived an American dream making more than 25,000 dresses a week," the designer explained.
"I think my biggest fashion moment is just about to happen now. All of a sudden all of the old pieces and the new pieces are gelling. And for the first time, as crazy as it may seem, I'm embracing the whole thing."
- COVER MEDIA