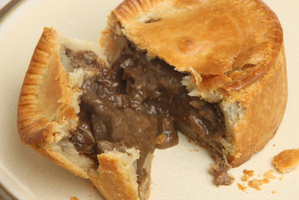 A man has died after competing in a State of Origin pie eating competition.
The 64-year-old North Queensland man appeared to start choking during a half-time chili pie-eating contest at a pub on Wednesday night.
An employee at the pub said he saw the man, a regular, fall to the ground, Australia's Courier Mail reported.
"He was seen choking but said 'No I am fine' then he fell to the ground," the bar staff said.
Two nurses also watching the game came to his aid, CPR was administered and he was taken to Townsville Hospital. He died later that night.
The employee said the crowd at the pub was devastated by the man's death.
"He comes down (to the pub) quite a lot, he is a regular... He lives within walking distance," he said.
"He would normally come alone but he knew a lot of people."
Police are preparing a report for the Coroner.
- www.nzherald.co.nz