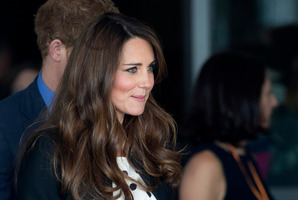 Britain is becoming impatient for the arrival of the Duchess of Cambridge's baby, and the Queen is no different, it seems.
Yesterday the royal great-grandmother confessed that she was anxious to head off on her holidays.
Asked by a young member of the crowd during a walkabout in Cumbria whether she was hoping for a boy or a girl, the Queen replied: "I don't think I mind, but I would very much like it to arrive because I'm going on holiday soon."
The monarch added that there was "no sign yet" that the birth was imminent.
The Queen is due to head to Balmoral for her annual summer break at the end of next week, giving the Duchess another eight days to give birth before her grandmother-in-law will be forced to decide whether to postpone her break. Babies are normally induced once they are two weeks overdue, meaning the Duchess could keep the world waiting until the end of July or early August.
The Queen visited the Lake District with Princess Anne, the Princess Royal, yesterday, beginning their day in Kendal, where they spent 20 minutes talking to local schoolchildren.
Harry Coward, 8, from Vicarage Park primary school, and Amelia Nicholl, 9, from Stramongate primary, gave the Queen roses and sweet peas.
Harry said: "I gave her flowers. She wanted to know how much longer until the summer holidays. I think it was cool."
Mike Poole, the head of Stramongate primary, said: "The Queen was very interested and she mentioned how many local schoolchildren turned out. Kendal has done us proud today."
The Queen and the Princess were presented with a hamper showcasing local produce by Tracey Graham, the retail manager of Made In Cumbria. Graham said: "She chatted for ages. She was thrilled with the damson gin and said she would be keeping that for herself."