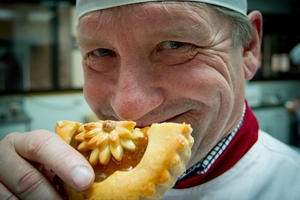 Never mind steak and cheese - judges have speculated that New Zealand's best pie of the year could be the fruity kind.
A team of 18 judges sorted through more than 4500 pies yesterday for the Bakel's New Zealand Supreme Pie Awards.
Bakel's executive chairman Duncan Loney said the competition had attracted the most entries in its 17-year history and the standard had "increased significantly".
He said the judges had tasted a wide variety of entries over the years, including a possum pie.
Chief judge Tim Aspinall said the trend is for gourmet and fruity pies.
"People always go for the sweet thing, but if you've got a nice tasty meat pie it could beat it," he said.
"It's the eye appeal - the pastry, the colour, the rise. It has to tick all the boxes."
"And when you bite or cut into it - it's full. And it's full of good flavours."
A Waikato couple have won the competition with fruit pies for the past two years, with gingered peach and pear, and plum, port and apple.
Guy Field has been judging at the competition for 12 years and agrees fruit pies have an "unfair advantage".
"You can dress it up and put a nice piece of fruit on it and you can make it fancy, you know? But what can you do with a bloody old pastry-top pie?"
Entrants travelled from all over to ensure their pies arrived safely. The pies were then cut in thirds for tasting and by the day's end, the judges had sampled enough to have consumed 15 pies each.