Herald Rating:
4/5
Address:
43c Eversleigh Rd, Belmont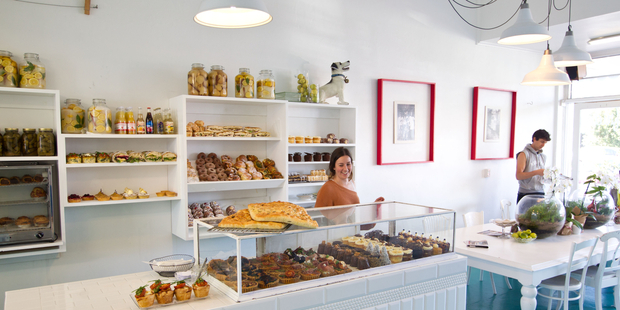 We came here because we'd heard it was one of the best bakeries in the city.
Parking was easy to find in the side streets nearby.
We walked in and immediately thought I hope we can find a seat on this sunny Saturday morning. No table service meant a lengthy queue at the counter.
The most unusual thing on the menu was ... none of the offerings were particularly unusual, but rather all the bakery staples, on steroids.
We ordered heaps of baked goods to share - an olive brioche with salad and haloumi ($6), a bacon and egg pie ($7.50), a toastie with ham, gruyere cheese, caramelised onion and mustard ($8.50), a couple of flat whites, plus Little and Friday's famous jam doughnut for dessert. All the dishes are served on quaint, mismatched vintage plates and the self-serve mustards are a must.
The coffee was a little bitter, but it was peak hour so I was forgiving.
And the cute collectors' teaspoons won me over.
The service was friendly and pretty laid-back considering the never-ending line of customers.
We recommend if you come here you find a nearby picnic spot. Little and Friday's sweet and savoury offerings are perfect for enjoying in a sunny spot outside.
Overall we thought it was a really charming experience. We'll be back for takeaways when the weather warms up.