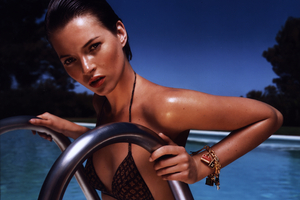 Kate Moss says she struggled with her reputation as the face of the 'heroin chic' look of the 1990s.
In an interview with Alure magazine, Moss spoke about the flak she copped after posing nude for Calvin Klein ads in 1993, that triggered a new era of waif-like models.
Her skinny structure sparked speculation she was suffering from anorexia and was using heroin, but the 39-year-old mother-of-one denied both.
The British model admitted she was troubled by the eating disorder rumours because she had become a role model for young girls and hated the thought that they might starve themselves in a bid to emulate her.
"It was horrible, especially the anorexic thing," she said.
But the drug using thing was easier to shrug off: "The heroin, I was like, 'Oh, it's just ridiculous. I don't do heroin. Just because I wear a bit of black eyeliner that's smudged..."
"But the anorexic thing was a lot more upsetting, to be held responsible for somebody's illness. I wasn't anorexic."
However, in 2008 she told Interview magazine she "didn't eat for a long time."
"Not on purpose," she said.
"You'd be on a shoot with bad food or get on a plane and the food would be so disgusting you couldn't eat it. I remember standing up in the bath one day, I was so thin! I was never anorexic... I remember thinking, I don't want to be this skinny."
Moss said she managed to overcome the troubling period by sticking to a mantra she learned from her ex-boyfriend Johnny Depp: "Never complain, never explain."
While Moss maintains she never used heroin, she's no stranger to drug scandal - in 2005 she was caught on camera using cocaine. She was immediately dropped by a bunch of high profile brands, but managed to regain her popularity and later double her earnings, her agent told the Daily Mail.
- WEN