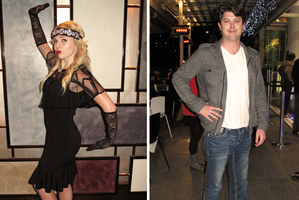 Check out this week's fashion wrap in the NZ Herald online Style File. Gents about town (pictured above l-r) Ricardo Simich and Andy Pickering (aka the Herald on Sunday 'Spy boys') have kept a close eye on the social set to bring you their best and worst looks. They've also been scouring the streets for Kiwis that catch their eye, what's on trend and people pushing boundaries. Did they get it right? Who's your pick of the bunch? Share your thoughts in the comment section below.
Street Style: Street style meets celebrity this week. The Style File men were out in Ponsonby during the day time, they attended a private party celebrating 150 years of Martini on Monday night, and on Wednesday night they were at the Aotea Centre for Slava's Snow Show. Finally the week ended with a host of well dressed famous faces at SkyCity's fabulous, glamourous themed Night of Gatsby party.
Hot & Not
Best Dressed (left): Actress Kimberley Crossman
Our favourite pocket-rocket blonde superstar, Kimberley Crossman turned heads at the Night of Gatsby party at SkyCity's twentyone bar. Effortlessly updating the 1920s Flapper look, Kimberley gave Flapper a contemporary spin in a stunning black Alannah Hill dress and headpiece accented with black lace gloves and Mi Piaci heels. How good is Kimberley's confident pose?
Worst Dressed: Seven Sharp reporter Craig Stanaway
We bumped into intrepid Seven Sharp reporter Craig Stanaway at Slava's Snow Show at The Edge. We're used to seeing handsome Craig in a well tailored suit but instead Craig had opted for a more casual jeans, tee and jacket approach and we're not convinced. It's the baggy jeans that don't work here Craig, too baggy, too blue, too casual. Tonight Craig, you look like a clueless American tourist, not the dashing Clark Kent we've come to expect.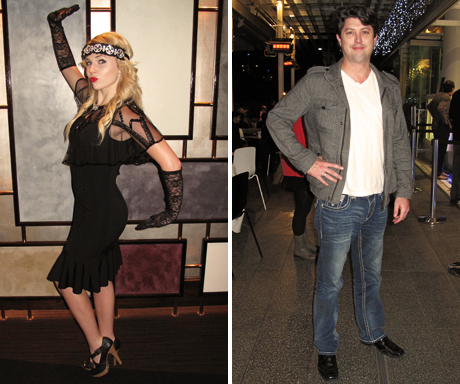 Check out last week's Style File here.
Follow our Style File spotters Andy Pickering and Ricardo Simich on Twitter.
* Style File was shot on the Samsung Galaxy Camera.