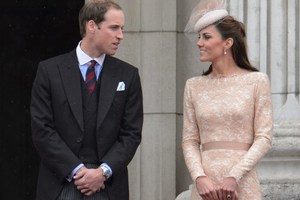 Wolfgang Joop thinks the Duchess of Cambridge dresses like a "dolled-up air hostess".
The royal has become a fashion favourite, often mixing high-end designer labels with designer store looks from Zara and Reiss.
Check out Kate Middleton's pregnancy style here.
While women the world over are fighting to imitate Kate Middleton's style, the Joop! fragrance creator isn't quite so taken with her fashion choices.
"I think Kate always looks like a dolled-up air hostess," he is quoted as saying to Germany's Bunte.de.
"It's as if you're filming a fantasy movie with all those little hats and jackets.
And then there's that permanent grin! It's very pretty of course, but it looks so forced."
Kate is expected to give birth to her first child with husband Prince William any day now.
Even throughout her pregnancy she has been making style statements with her maternity wear, most recently sporting a pale pink coat and matching fascinator for the Trooping the Colour event.
Joop believes her passion for fashion is typical of Britain.
"In England, clothing is communication," he explained.
"You can tell straight away who comes from which part of town and who went to which high school. But nobody talks about it. The communication comes from the clothes. That's why personal style is so important over there."
- COVER MEDIA