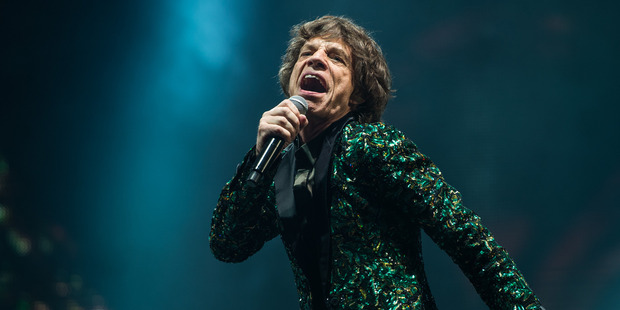 Mick Jagger was thrilled with his "glamoflage" look for Glastonbury.
The Rolling Stones headlined the iconic UK music event last month and frontman Jagger lit up the stage with his sequin-embroidered jacket in emerald green, khaki and black.
His girlfriend L'Wren Scott designed the outfit for him and the couple have explained the inspiration behind it.
"We were joking about the 'glamouflage' at Glastonbury, and he said, 'Well I want it to be oak leaf.' So if you look at it closely you see the oak leaves - it's quite cool," Scott told the WWD.com fashion website.
"So I did some tests of embroidery of leaves and I showed (Jagger) a drawing with an embroidery or visual attached. He loved the leaf idea, and I said it's kind of like a 'glamouflage' It just felt very right for Glasto, to open the show with a very outdoorsy feel - and the crowd was incredible."
"We started to think about the Glastonbury show and I said to her that (I wanted) something very English - an oak leaf," Jagger said.
"Nobody (in the audience) realised they were really oak leaves - but I did."
Jagger also wanted his outfit for the recent Rolling Stones concert at London's Hyde Park to be deeply significant.
The rockers previously played there 44 years ago, and famously released hundreds of white butterflies in tribute to guitarist Brian Jones, who had died days before.
L'Wren designed a black embroidered and beaded jacket featuring a butterfly pattern for Mick to wear for the recent show.
Under the stage lights, the item shimmered and looked like the winged creatures were flying around.
"I wanted to have something really magical and interesting," she explained.
- COVER MEDIA