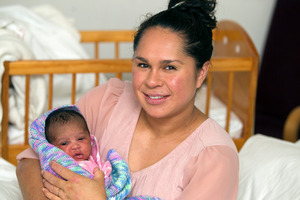 Royal baby fever has parts of the country in its grip.
One royalist welcomed her own princess into the world yesterday with her fingers crossed the Duchess of Cambridge's first child will share the birthday.
Kate is due to give birth this weekend. As of last night, Prince William had left his base on Anglesey to be with his wife but there were no announcements.
Meanwhile, Bianca Murahwa, 27, gave birth to her 3.1kg girl at 2.05am in Auckland yesterday and said she has been following the Duchess' pregnancy.
"When I found out she was pregnant as well I was hoping we'd be due on the same day. I was due on the 18th, so I'm happy I ended up being early."
Murahwa, whose daughter's name is pencilled in as Penelope pending her father's approval, said she was over the moon to hear she had the same birth plan as Kate.
"She wants a natural water birth with no drugs, just like me ... I really hope she gets the birth that she wants. I hope it's a girl as well to follow what dresses she's wearing.
Birthcare midwife Megan Sneddon said: "If Kate births as well as Bianca then she is blessed."
Penelope is a new sister to 23-month-old Kohl.
Auckland's Look Sharp sales assistant Mike Lee said the shop had flags, streamers, face paints, British costumes and "anything linked to Queen Elizabeth" on offer.
"We've also got rubber baby masks, which Prince Charles would be really unhappy about," he said.
The window at British Goods in Petone is dressed with a pram and Union Jack, and customers who spend more than $20 can enter a "guess the sex" competition.
Owner Margaret Brittain said she had stocked just a few infant-sized Royal Guardsman sleep suits. "It costs so much to get them here and you only have a few days to sell them - and the interest just dissipates once the baby is here."