Popular children's book writer excluded from Maori contest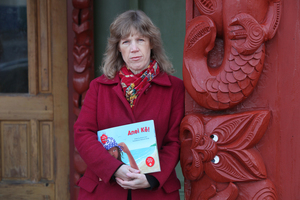 An author of a popular Maori children's book series has been excluded from entering a national library award because she is Pakeha.
Te Reo Singalong creator Sharon Holt was told she could not enter the Te Kura Pounamu Award for children's literature because she had no Maori blood.
A prominent Waikato Maori educationalist says the New Zealand Library Association is out of touch and Holt is making a valuable contribution to the survival of te reo. But LIANZA says it will not open the award to non-Maori as its purpose is to recognise indigenous writers.
Race Relations Commissioner Dame Susan Devoy said she sympathised with the author but declined to criticise the awards. "I hope Sharon and the award organisers can get together to resolve this issue."
Holt, a finalist in last year's Maori Language Commission Awards, said she didn't realise she was excluded until she saw the fine print on the official registration form.
It stated the book must be "written by a Maori author or translated by a Maori translator". But the award website noted only the author had to be a New Zealand citizen or resident and made no mention of being Maori.
Holt, 53, is a New Zealander and began learning Maori a decade ago.
She said the award was unfair and racially biased. "You are discriminated in this award on the basis of your ethnicity. Basically they're saying because I'm not a Maori person, my books don't count."
The Hamilton author has sold more than 7,000 books in the past 18 months. The colourful, themed language picture books are packaged with a backing CD sung by Maori musicians for teachers and children to sing along to.
The books are intended for early childhood and primary teachers.
Central Kids Kindergarten Trust Pouawhina Arama Koopu said the organisers were out of touch. "Sharon has become an important person for Aotearoa because she is not Maori and she is promoting te reo Maori," said Koopu.
But LIANZA National Council president Laurinda Thomas said the award aimed to recognise those of Maori descent who encouraged children in te reo.
"As such, Te Kura Pounamu encourages Maori to participate in an area where they are under-represented and celebrates a significant contribution to children's literature in New Zealand," she said.
Thomas said LIANZA would clarify the award recognised Maori authors, illustrators and translators.
Pakeha Party founder David Ruck said it was unfair and "a perfect example" of what his party stood for. "If it was the other way round, it would be racist."
Dame Susan said: "The Te Kura Pounamu Award has, with great integrity and foresight, encouraged Maori to contribute to children and young people's literature. I also understand Sharon Holt's dismay at not being able to enter the awards."
The 2013 LIANZA Children's Book Awards winners will be announced on August 5.