Parents turn to foreign brands as our best Kiwi-made infant formula is exported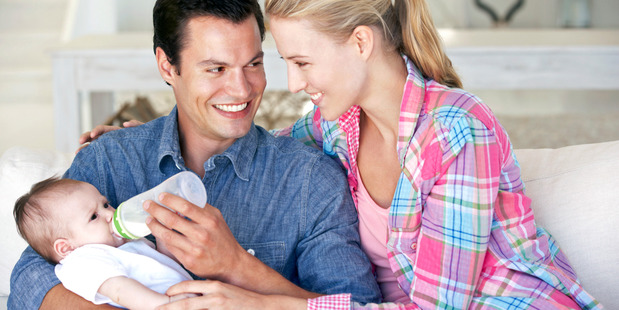 New Zealand is home to the world's most successful dairy company - but Kiwi babies are being fed infant formula from foreign brands.
All three of the top-selling brands of baby formula in New Zealand are made by foreign companies. None is made here from completely Kiwi ingredients.
New Zealand last year exported about $600 million of formula product but Kiwi mothers prefer to buy Karicare, Nurture and S-26.
Karicare is owned by the French Danone Group, which has about 80 per cent of the Kiwi market. S-26 is made by the Swiss firm Nestle, after being bought from Pfizer, and Heinz makes Nurture.
New Zealand's stocks of Nurture are mostly made in Australia, although Heinz is moving some production to New Zealand. The brand is believed to obtain its base powder from a Melbourne dairy company.
Karicare's label says it is "blended and packed in New Zealand from imported and local ingredients".
But sources told the Herald on Sunday that the base formula was made at a Fonterra plant in Dandenong, Australia. It was then sent to New Zealand, where the final 15 per cent of the formula was added and the product was packaged. A Karicare spokeswoman would not confirm that, saying it was commercially sensitive. She said some ingredients had to come from elsewhere but would not say which.
Sources said it was possible that New Zealand skim milk powder was being sent to Australia to be made into formula base powder.
S-26 is made in Singapore. A spokesman said it contained some New Zealand milk powder.
Fonterra is one of the largest contract manufacturers of infant formula products in the world. It produces it for multinational and regional companies, and has its own brand, Anmum, in Indonesia, Malaysia and, soon, China.
But Fonterra does not market any formula direct to Kiwi customers.
Stephen Julian, of Peak Nutrition, said New Zealanders were not being given the opportunity to support local brands.
Julian said the restrictions on infant formula marketing made it hard to get messages to the public about which companies New Zealanders owned.
He said a small portion of the ingredients in formula had to be obtained overseas.
"All brands have certain ingredients that are imported from Korea, the United States and other parts of Asia."
But consumers should have enough information to be able to decide to support Kiwi producers who were not exporting their profits.
Chris Claridge, of the New Zealand Infant Formula Exporters Association, said it was hard to break into our supermarkets with baby formula.
He exports enough to China to feed half of New Zealand's babies, "but I struggle to get cut-through in New Zealand supermarkets because of the dominance of the multinationals".
Jan Carey, of the Infant Nutrition Council, said more Kiwi brands were popping up on the shelves.
"They are all run by New Zealand entrepreneurs getting into the infant formula business. New Zealand has such a fantastic dairy industry, they want to be part of it, too."