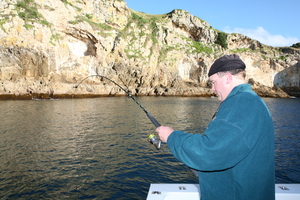 Fishing at this time of year is all about working the weather. Rain is not a major problem apart from the discomfort, but wind is a killer. It is not only cold but can create dangerous conditions, and there have been reports lately of fishermen getting into trouble and spending many hours in the water.
Not only warm clothing and lifejackets are vital, but a means of communication. As well as a VHF radio on the boat, a cellphone in a plastic bag and, preferably, a hand-held VHF are recommended by Maritime NZ. A cellphone is no good if it gets wet and a VHF in a boat half under water is useless. You can get good plastic covers for cellphones that allow you push all the buttons, and a portable VHF is useful but should be connected to the person. It is no use if it is locked away in a cubbyhole.
It is also important to let somebody know where you are planning on going and when you expect to return, and to also put in a trip report to Coastguard.
It is the skipper's legal responsibility to ensure there are lifejackets for every person on board and that they fit.
The skipper should also make sure somebody else knows how to operate the boat in the event of something happening to him. It is all about thinking ahead and being prepared.
But much of the fishing at present does not require extensive travel, as snapper can be found close to shore in most areas. These are fish that have elected to remain and feed on crabs and shellfish after most of their brethren have departed for deeper, warmer water.
Our coasts are rich in such habitat - all the way from Wellington to North Cape there are endless stretches of reefs and rocks. Around Auckland, the choice is also varied, from the foreshore along the East Coast Bays to North Head, Bean Rock, Browns Island, St Heliers Bay Reef, Meola Reef, Musick Pt and all around the islands.
Freshwater
Lake Okataina has been the pick of the Rotorua lakes this winter in terms of the size of spawning trout, producing the biggest individuals. Fish and Game has recorded 580 fish through the Te Wairoa Stream trap on Lake Tarawera this winter, which is about normal, but none was over 4.5kg.
Bite times
Bite times are 3.30am and 3.55pm today, and tomorrow at 4.15am and 4.40pm. These are based on the moon phase and position, not tides, so apply to the whole country.
Tip of the week
Use light line with no trace and small baits when fishing the shallows. Plenty of berley is also important.
More fishing action can be found on Rheem Outdoors with Geoff, 5pm today, TV3.