Each week Rachel Grunwell tries a new sport to bring you the lowdown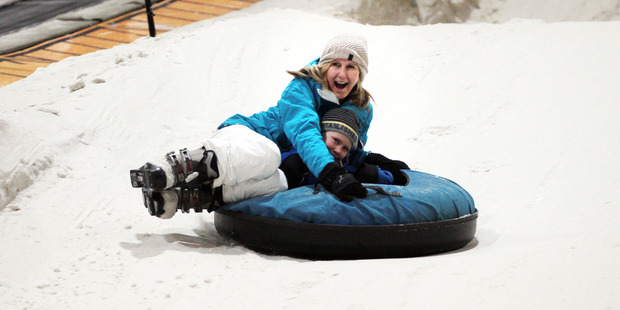 Snow tubing
What is it? You sit in a giant rubber ring (with a waterproof bottom) and slide down a snowy course.
What's needed? Waterproof gear, gloves, a warm hat and a helmet (optional), or hire gear. Kids can don gumboots or hire snow boots. Tubes are provided.
The experience: Six-year-old Lachie's face is a picture of absolute ecstasy. We're sliding, spinning and swishing at speed down a hilly snow-tubing course at Snowplanet, north of Auckland city, and I don't know which of us is laughing and squealing the louder, or who has the broader grin.
"That was reeeeeeeeally fun!" exclaims Lachie.
"More?" I ask.
"Let's go again," he says.
"Race you there!" I say.
We're pink-cheeked and tickled pink. We spring back to our feet, clomp a couple of metres over the snow and take the tyre up the magic carpet to the top of the course, eager to hurl ourselves back down again for more "scream time".
Lachie sees his 8-year-old brother Zach hurtle down the 35m tubing slope, followed by his dad Damien - they're both beaming, too.
Tubing is easy, fun and safe. The course is designated just for tubing, so you can't get mowed down by skiers. It's specially designed with safety sides and you slow to a stop at the end. It's a short course with four humps so you can't gain too much momentum; just enough to have you smiling your socks off.
The squeals of delight from tubers are only just audible above the rock music blasting from the speakers inside the giant snow dome. It's like a party in here.
Snow tubing is billed on Snowplanet's website as "for people of all ages who love to have fun", and that's bang on. Everyone from grandparents to little tykes (aged 3 and over) would get a kick out of this. The only instruction you need is: "Sit, slide and enjoy".
When we've finished, Zach and Lachie meet ski instructor Finn for an hour-long lesson and in view of them doing "pizza wedges" on the snow I too get a lesson to try to refine my (average) skiing technique. Instructor Alastair tells me he's more of a snowboarder at heart but he's happy doing whatever as long as it involves glorious snow; it's his happy place.
Meanwhile, the expert skier in our family, Damien, enjoys doing jumps and speeding down the 200m slope, checking in on Zach and Lachie's ski lesson as he goes up the hill on the lift.
Our family spends two hours at Snowplanet, a perfect amount of time for our young kids to learn some new tricks, experience some thrills and spills, and make some fun memories.
How much? One-hour entry for snow tubing: children/students, $24; adults, $29. There are also lots of different family passes, including one costing $89 for two adults and two children.
Worth it? It's awesome.
Try it: Snowplanet is open every day at 91 Small Rd, Silverdale, Auckland. There are school holiday and after school programmes, and regular events. See snowplanet.co.nz or ph (09) 427 0044.
Rating: 10/10