Dionne Christian previews a school holiday course of film-making fun for youngsters with ambitions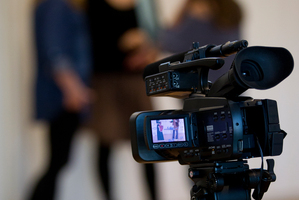 Lights, camera, action! Film is a big focus of July and early August as the 2013 New Zealand International Film Festival begins. If you have young ones who fancy themselves as the next Peter Jackson or Jane Campion help them to learn more about the art and craft of movies both in front of and behind the camera. Check out films the whole family can enjoy at the festival and, on page 17, a kid's-eye review of the animated Epic.
Acting for screen
As an actor, comedienne and casting director with more than 20 years of experience, Fiona Edgar has had plenty of time to reflect on what sorts of audition performances land actors their roles. Now she teaches Acting for Screen classes at The Auckland Performing Arts Centre (Tapac) in Western Springs. These classes help students develop their own style and confidence, learn technical skills and explore performance techniques. There are improvisation games, character work and the chance to film and watch yourself on screen. Wednesday afternoon classes are open to 7-11-year-olds followed by an early evening session for those aged 13+, while on Thursdays, Fiona teaches 11-14-year-olds followed by an adults' class.
For more details, see tapac.org.nz or phone 845 0295.
Animation workshops
Each month, South Seas Film, Television, Animation and Photography School runs a free Saturday animation Workshop (10am-1pm) for older teensz. Digital drawing and painting and the fundamentals of animating characters for screen are taught and there's plenty of time to ask questions about the discipline. Now in its 20th year, South Seas also runs introductory courses, sometimes during school holidays (for those aged 15 and older) in video production, photography, 3D animation and on-screen acting. These are a taste of what the school's full-length diploma programmes offer.
For more details, see southseas.co.nz or phone 444 3253.
Bubble Dome
Oh, to be 5 to 18 years old and eligible for one of the Bubble Dome school holiday workshops on computer-based creativity. Courses include Minecraft inventions and challenges, Lego engineering and robotics, app building for iPads and iPods, 3D animation and games design, and web development and mobile apps. The three-day 3D animation design course introduces 6-11-year-olds to the skills behind 3D movies like the Madagascar and Shrek franchises: kids learn how to create characters and whole make-believe worlds through animation, 3D modelling and design. Meanwhile, the newly introduced web development course teaches 9-14-year-olds how to design a website from scratch then create iPhone, iPad and Android apps from this content. Enrol your children immediately, offer to invest in their business, watch your retirement fund build.
Most courses run 9am-5pm for an entire week and while they're not cheap (fees range from $299-$399), the tutors are industry professionals and the skills learned open young eyes to the possibilities offered by the multi-billion dollar tech industry.
For more, see bubbledome.com or call 0800 438 282.
Jump Cut
Now in its 10th year, Jump Cut is an annual short film workshop series and competition run through Youthtown, a non-profit organisation. Its 2013 Saturday short film workshop series started in May (for kids aged 13-18) and covers all facets of making short films - scriptwriting, sound, lighting and camera work, directing, working with actors, location shoots and editing - under the watchful eye of industry professionals such as head tutor Mick Innes. With the workshops finishing today, Jump Cut moves into its next stage. Course participants, and other young film-makers, can enter a short film in a competition (entries close Friday, August 9, the films premiere on Wednesday, September 4) with prizes for best film, actor and director.
For more details, see youthtown.org.nz or phone 379 5430 and remember to keep an eye out for details of next year's Jump Cut workshops.
Make up and Special FX
Do you spend your time watching movies and wondering how the makeup people work their magic? Now their secrets - or at least some of them - can be revealed at school holiday workshops run at BodyFX in Kingsland, Auckland. The creative body art studio which, among other things, provides makeup and special effects for film and TV (and - who knew - for realistic St John Ambulance training days), runs classes for 8-17-year-olds in face-painting. In the special effects makeup and prosthetics class, kids learn to make realistic-looking wounds, scars and burns as well as creating a complete character with prosthetics.
For more details, see bodyfx.co.nz or call 0800 022 555.
The Outlook for Someday
The Outlook for Someday is a film-making challenge for individuals or teams (up to age 24) to make a short sustainability-related film which may just change the world. It can be in any genre, filmed with any type of camera and any length up to five minutes. Workshops are being held around the country (there's one at Auckland Zoo on Tuesday, July 16 for folk who live or go to school in the Waitemata Local Board catchment). The 2013 entry deadline is September 13. Twenty winning films will be selected as finalists in The Someday Awards. Previous winners have achieved success at international festivals: last year's winner, Natasha Bishop (16) and her four-minute film, Arboraceous is a finalist in the Japan Wildlife Film Festival, competing against 42 films made by the likes of the BBC, NHK (Japan Broadcasting Corporation) and other international broadcasting giants.
For more details about the film challenge or to register for a workshop, see theoutlookforsomeday.net or call 376 6060.
Phase 1
Last weekend, a handful of budding young film-makers, aged 15 to 25, spent their weekend at the Corban Estate Arts Centre in Henderson learning from Michael Hurst, Sylvia Rands, Gary Henderson and Bryan Hudkins as part of the EPIC Art/Write/Direct/Film project.
Works produced from the workshop may go on to be included in Phase I, a three-day festival of original short plays and films (no longer than 10 minutes) made by emerging young artists (Thursday, August 29 to Saturday, August 31). On the Friday it's the plays' Heat Night. The best from the film and plays heat nights will be screened and performed. Then it's Gala Night to select the supreme award-winners. Some content in the festival may be a little racy so it's not suitable for those aged under 5 and parental guidance is recommended.
For more, see ceac.org.nz or phone 838 4455.
Sounds FX Holiday Experience
Wonder no more how sound effects are created for the movies because these school holidays Motat provides the answers through its Sounds FX programme.
The hands-on activities, which make loud and clear the role sound plays in our lives, include the Motat Radio Show, by Phineas Phrog Productions. This is a humorous show where children can make the sound effects for the play. Kids can also create live sound effects over vintage silent movies and learn how to create aural illusions on paper.
Motat's Holiday Experience activities run from today to Sunday, July 28. Included with normal admission or free with a Motat Mates Annual Pass.
For more details, see motat.org.nz or call 0800 668 286.
Square Eyes and the 2013 International Film Festival
If your kids are lucky enough to be visiting Wellington, introduce them to the New Zealand Children's Film Foundation, or Square Eyes. It started seven years ago to promote quality, diverse and independent world cinema to children and their families. These school holidays, the children can take a five-day course in film reviewing (9-14-year-olds). Mornings are spent learning reviewing techniques while the afternoons are for watching movies to critique the following day. Sadly, the programme is offered only at the NZ Film Archive in Wellington.
Meanwhile, Square Eyes' director Nicola Marshall has worked with NZIFF animation programmer Malcolm Turner to choose kids' short films for this year's festival in Auckland.
Toons for Tots, which features nine short films targeted at ages 4-7 years, includes an adaptation of Julia Donaldson's book Room on the Broom.
At 25 minutes, this is the longest in the Toons for Tots collection which runs for a total of around 62 minutes.
Animation for Kids is aimed at 7-10-year-olds and its 69-minute programme features 12 shorts from countries as diverse as Taiwan and Norway, Latvia and Argentina.
Feature film Ernest & Celestine brings to life a vivid storybook world inhabited by unlikely friends Celestine, a mouse trying to avoid a career in dentistry, and a big Bohemian bear called Ernest. This has earned wide acclaim as a just-about perfect animated feature.
Meanwhile, the documentary Maidentrip will no doubt inspire young mariners. It's the story of New Zealand-born Laura Dekker who, at 16, last year became the youngest person to sail solo around the world.
For more details about these films, see nziff.co.nz and to find out more about Square Eyes, go to square-eyes.co.nz.