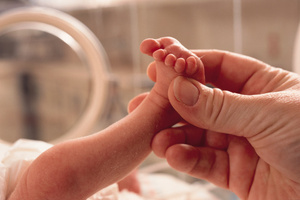 Women at Auckland City Hospital will be given a version of the men's erection pill Viagra in the first comparison trial of the medicine to treat a pregnancy complication that is often fatal.
Use of a low dose of the drug sildenafil will be compared with placebo pills to see if the active medicine improves growth and healthy survival rates of fetuses afflicted with severe intra-uterine growth restriction from before 30 weeks of pregnancy.
The condition occurs in around two in every 1000 pregnancies internationally, suggesting it affects well over 100 a year in New Zealand.
The researchers involved in the transtasman trial say on the Clinical Trials Registry that growth restriction puts the fetus at risk of death, lack of oxygen and premature birth. Only 70 per cent of affected fetuses survive if the condition starts before 28 weeks of gestation, "and survival free of major handicap ... is much lower at 20 per cent".
"Current management involves intensive fetal surveillance and delivery when there is evidence of serious compromise - to avoid death in utero - but this leads to the consequent risks of prematurity."
Premature babies are at risk of conditions such as cerebral palsy and brain injuries.
There is no proven treatment for intra-uterine growth restriction although women in whom it is diagnosed are told to rest, in the belief this will minimise the underlying problem of blood circulation in the placenta.
Trial leader Dr Katie Groom of Auckland University said: "If we can determine a therapy that enhances fetal growth, and we can therefore delay delivery, we will improve not only these babies' survival rates, but also reduce the many complications that follow and can lead to life-long disability or disease."
She said if sildenafil proved effective in the early-onset cases, "we plan to trial it in later-stage cases too, where it could be of benefit for many more at-risk babies and families and have a huge societal and financial effect on our population".
As well as its original use in treating male impotence, sildenafil is now also given to some pregnant women and newborns to treat a constricted blood flow in the lungs.
An investigator in the new trial is Professor Phil Baker, the director of Gravida, the National Centre for Growth and Development, who began testing the idea sildenafil could increase blood flow to the uterus and fetus in the late 1990s.
The trial will start recruiting patients in October and will be part of a network of studies in several countries. Findings are expected to be published in 2017.
Read more: Mother: I would take impotence drug