Average household spends $88 a year on bananas, and just $26 on oranges.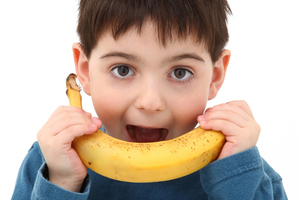 They're bad luck when fishing and have a bad rap for containing too much sugar, but bananas remain New Zealanders' favourite fruit.
Kiwis spend more on bananas than any other fruit, getting through 18kg of them every year, or roughly two each a week, a survey has found.
An average Kiwi household spends $88 a year on bananas, compared with $61 for apples and $26 for oranges, figures released by Statistics New Zealand (SNZ) show.
While spending on bananas remains high, their cost has risen more slowly than other foods.
SNZ has been tracking the cost of bananas since 1949, when the modern consumers price index was first published.
"In the last 30 years bananas have doubled in price," SNZ prices manager Chris Pike said. "This compares favourably with the cost of food overall, which has tripled."
Since March 1983, banana prices have risen from $1.39 to $2.80 a kilogram. If bananas had increased at the same rate as overall food prices, shoppers would have paid $4.50 a kilogram in March 2013.
New Zealand imports bananas from overseas so the price of the fruit is directly influenced by costs such as freight prices, foreign exchange rates, and overseas suppliers' prices. Most bananas eaten in New Zealand come from Ecuador and the Philippines. Healthy Food Guide nutritionist Claire Turnbull said there was no real limit on the number of bananas people should eat, although her advice was to switch to vegetables after two servings of fruit in a day because vegetables were lower in sugar.
"Bananas get a really bad rap because they are more energy-dense," Ms Turnbull said. "They have more kilojoules per serving but that is purely because it is a more concentrated source of carbohydrate because it has less water in it.
"The reality in New Zealand is that people are still not eating enough fruit and vegetables, and if they'll eat a banana rather than a pie or a cookie then nutritionists will be very happy."
Bananas are popular because they are portable, keep well and are happily eaten by most children, she said. They are also a good source of energy for sportspeople.
"The message is bananas are fine, but to most people a big banana is probably two servings. There isn't a certain number that is bad, it's just that they are a source of natural sugar ... the critical thing is to eat a variety because each fruit and veg has its own plus."