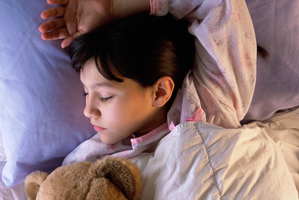 Giving young children regular bedtimes could help expand their brain power, a new study suggests.
Researchers have found that inconsistent bedtimes are linked to children's cognitive development and warn there could be "knock-on" health effects throughout life.
The authors wanted to test if the time a child went to bed, and the consistency of bed times, impacted on their intellectual performance, measured by testing their reading, maths and spatial awareness.
The study, published in the Journal of Epidemiology and Community Health, examined more than 10,000 children taking part in the Millennium Cohort Study - a long-term study of children born in Britain between September 2000 and January 2002.
The research was drawn from regular surveys and home visits made when the children were aged 3, 5 and 7 to record family routines, including bedtimes.
When children were 3, almost one in five had irregular bedtimes, but the figure reduced to less than one in 10 when the children were older.
By the age of 7, more than half the children went to bed regularly between 7.30pm and 8.30pm. Children without regular bedtimes and who were put to bed after 9pm tended to come from more socially disadvantaged backgrounds, the researchers said.
They found that 7-year-old girls who had irregular bedtimes had lower scores on all three aspects of intellect compared with children who went to bed at a regular time, but the effect was not found in boys.
Irregular bedtimes at age 3 were associated with lower reading, maths and spatial awareness scores in both boys and girls.
Girls who had never had regular bedtimes at any age had significantly lower reading, maths and spatial awareness scores than girls with consistent bedtimes. For boys, this was the case for those having irregular bedtimes at any two ages.
But they also found that irregular bedtimes by the age of 5 were not associated with poorer brain power in girls or boys at the age of 7.
"Sleep has a crucial and complex role in the maintenance of health and optimal function," the authors wrote.
AAP