Herald Rating:
4/5
Address:
132 Kitchener Rd, Milford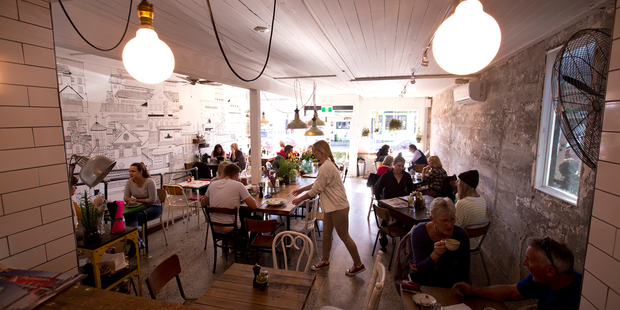 We came here because since it opened a couple of months ago, we'd been pressing our sweaty noses to the window after several power walks and were finally decently non-sweaty to venture inside.
Parking was not too bad on a rainy weekend, but cars coming out of the supermarket carpark can be a hazard.
We walked in and immediately thought hooray, hipster industrial chic makes it to the Shore bastion of conservatism, Milford. This is, after all, the community that booed young people at their unitary plan meeting asking for affordable houses. The place was full of young families, with a cute muralled play area for the young ones and even a changing table in the loos (women's, but I'm sure there's one coming for the men's, eh guys?). There are flowers in jam jars, the water tap is a fire hydrant.
The most unusual thing on the menu was the roasted veges and cheese. For breakfast. Plus the best array of waffle variations (from $14) outside of the Deep South, including an Elvis-killing banana, caramel, walnut or a chicken sandwich waffle ($18.50).
We ordered the roasted veges ($12.50) and old fashioned mince on toast ($14.50). The veges were not as caramelly-roasty as we like, but crispy bacon, a generous dollop of sour cream and plenty of shaved parmesan saved the day. The mince on toast was better than Mum's. Sadly, we had no room for a dessert waffle or two.
The coffee was Supreme brand, hot and promptly served. The fussy one's long black was exactly as he prefers, not a common event.
The service was swift and friendly. Owner David is everywhere, the crew are all gorgeous, happy boys and girls who put a smile on your face.
We recommend if you come here leave room for wicked waffle, and carry out some of the home-baked goodies for later.
Overall we thought the other cafes on the strip must be feeling the freeze, this place has got it so right.