If the Duke and Duchess of Cambridge have a baby girl, she will one day become only the seventh queen to be crowned in her own right in English history. Here's a look at the history of female monarchs.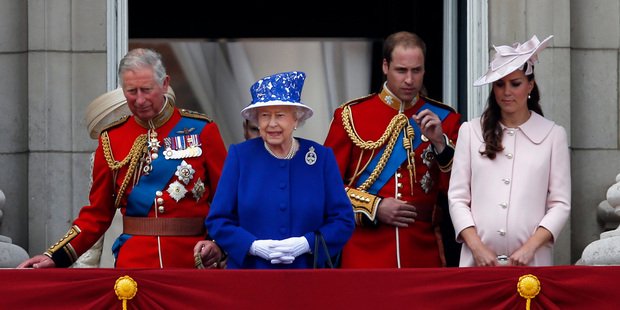 MATILDA
Also known as Maud, Matilda was never crowned. Born in 1102, she was the daughter of the English king, Henry I. The death of Matilda's brother in 1120 made her Henry I's sole legitimate heir at a time when women rulers were unprecedented.
But after Henry I's death, she was usurped by her cousin Stephen of Blois resulting in civil war. Stephen quickly crowned himself King of England.
He was captured at Lincoln in February 1141 and Matilda briefly controlled England - the only woman to do so during the Middle Ages. But her arrogant behaviour alienated many of her supporters and she was never crowned.
Civil war continued but when in 1147 Matilda's greatest supporter, Robert of Gloucester, died - she retired to France and never returned.
LADY JANE GREY
The accession of Lady Jane Grey, one of Henry VIII's great-nieces, as Queen was engineered by the powerful Duke of Northumberland in the interests of promoting his own dynastic line.
She reigned for only nine days from July 10 to July 19, 1553, before she was arrested and imprisoned in the Tower of London by Mary Tudor.
Lady Jane Grey's regime fell before she could be crowned. She was later executed in 1554 at the age of 16.
MARY I
Mary was the first queen to rule England in her own right, rather than through marriage to a King, acceding to the throne in 1553.
She was the only surviving child of Henry VIII and Catherine of Aragon and was declared illegitimate but later reinstated to the line of succession.
A devout Catholic, she was known as 'Bloody Mary' for her persecution of Protestants.
ELIZABETH I
Mary remained childless meaning her half-sister Elizabeth - the daughter of Henry VIII and his second wife, Anne Boleyn - was heir when Mary died in 1558.
Protestant Elizabeth ruled for 45 years. Known as Gloriana and the Virgin Queen, she refused to marry.
Her reign saw voyages of discovery by Francis Drake and Walter Raleigh, as well as the defeat of the Spanish Armada. She was a popular monarch and a skilled public speaker.
MARY II
The daughter of James II, Mary and her Dutch husband William of Orange became co-rulers of England after the Glorious Revolution and took to the throne in 1689.
While William was directing military campaigns, Mary governed as regent, but she relied entirely on her husband's advice. In the periods when William was in England she retired from politics.
She was a popular Queen but died of smallpox on December 28, 1694 leaving her husband to rule alone.
ANNE
Anne - Mary II's sister - was the last of the Stuart monarchs, ruling from 1702. She was the first sovereign of Great Britain after England and Scotland were combined into a single kingdom on May 1, 1707.
Anne's reign was marked by the development of the two party system, with Whigs and Tories competing for power. She was heavily influenced by her ministers and her favourites, particularly the wife of the Duke of Marlborough.
VICTORIA
The longest reigning British monarch so far. Victoria ruled for more than 63 years, acceding to the throne in 1837. Britain had evolved into a constitutional monarchy. She became the figurehead of a vast empire and her reign spanned the rest of the century.
She married Prince Albert and had nine children, but mourned his early death for the rest of her life.
ELIZABETH II
The current Queen is the second longest reigning British monarch. Daughter of King George VI, Elizabeth II became Queen when she was just 25.
She is a great-grandmother to the Duke and Duchess of Cambridge's baby and celebrated her Diamond Jubilee in 2012.
SCOTTISH MONARCHS:
MARY, QUEEN OF SCOTS
Born in 1542, Mary was the only child of James V of Scotland and his French wife, Mary of Guise. Her father died just days after she was born. She was brought up in France and was briefly Queen of France through marriage.
When she returned to Scotland, her marriage to Lord Darnley, the great-grandson of Henry VII, caused problems when he became the tool of Mary's enemies. A third marriage to the man suspected of murdering Darnley saw the Scottish nobility turn against Mary.
She eventually abdicated in July 1567 and sought refuge with her cousin Elizabeth I.
But she had a strong claim on the English throne and was seen as a threat amid Catholic plots to assassinate Elizabeth. Tall, graceful and quick-witted Mary was imprisoned by Elizabeth I and executed in 1587 after 19 years in captivity.
- PAA