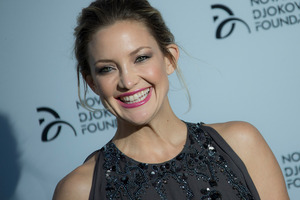 Actress Kate Hudson is channelling her athletic side to create a line of sportswear.
The Almost Famous star has teamed with Justfab.com to design a collection called Fabletics, which features a range of tops, jackets and accessories.
Hudson, who is a mother of two young sons, says she took inspiration from her own busy lifestyle to create the pieces.
"I've always lived an active lifestyle, and with two boys, life has only gotten busier," she says.
"As a working mum, I know what it's like to be on the go and running around from one activity to the next. Sometimes you just don't have time to change, but you still want to look cute, whether you're taking a yoga class, running errands or meeting up with friends before you pick the kids up from school."
The range, which will launch in October, is not Hudson's first foray into the fashion industry - she unveiled a capsule collection for clothing brand Ann Taylor in May and previously collaborated with jewellery company Chrome Hearts in 2011.
- WEN